Volunteers with Blanchet House of Hospitality deliver sack lunches
United Way of the Columbia-Willamette's volunteer program - Hands On Greater Portland - connects thousands of volunteers to projects that directly benefit kids and families across our region. In honor of Global Volunteer Month, we asked Program Manager, Lizzie Houns, to reflect on what volunteerism has looked like over the last year.
The onset of the pandemic in spring 2020 was an uncertain time for everyone, volunteer managers included. With closures and quarantines, most of our nonprofit partners decided to cancel their projects to mitigate the risk of spread, which meant reduced offerings for the populations they serve. Despite the virus, however, we still heard from many people in the community and at our partner organizations who were ready and willing to adapt their engagement so that community projects most in need could go on. Our own Hands On Greater Portland team came together to support our partners however we could, and we created volunteer resource pages for individuals seeking ways to support community members and partner organizations alike.
Our partners at Blanchet House of Hospitality tell us, "In the early weeks of the pandemic we feared that we would not have enough volunteers to continue our services, but many first-timers came to serve after they found themselves laid off or furloughed from foodservice and other jobs." Hands On volunteers stepped up to the call and provided community support via item and food donations, virtual connection and skill-sharing, and mutual aid delivery to keep the good going.
As our collective knowledge about the virus evolved, more partners were able to adapt their service projects to become virtual or at-home opportunities. Carolyn Reed with Store to Door tells us, "We had a significant increase in demand for our service along with a sizeable decrease in grocery shoppers and delivery drivers. We had to shift our in-person training and create online training videos for all four volunteer programs. In the last year, we have increased our clients served by 40%. We also introduced a Friday Friendly Caller program that is very popular with our clients and volunteers."
For Margaret Gunther's team with the City of Tualatin, library closures did not mean the end of library services. "By the summer of 2020, we had adapted our volunteer programs and radically changed the ways we engaged with volunteers. We developed new programs like the Craft Prep Crew, Do It Yourself projects, and Tween Readers to help us stay connected and continue to provide community services while building resiliency and creativity into our volunteer programs."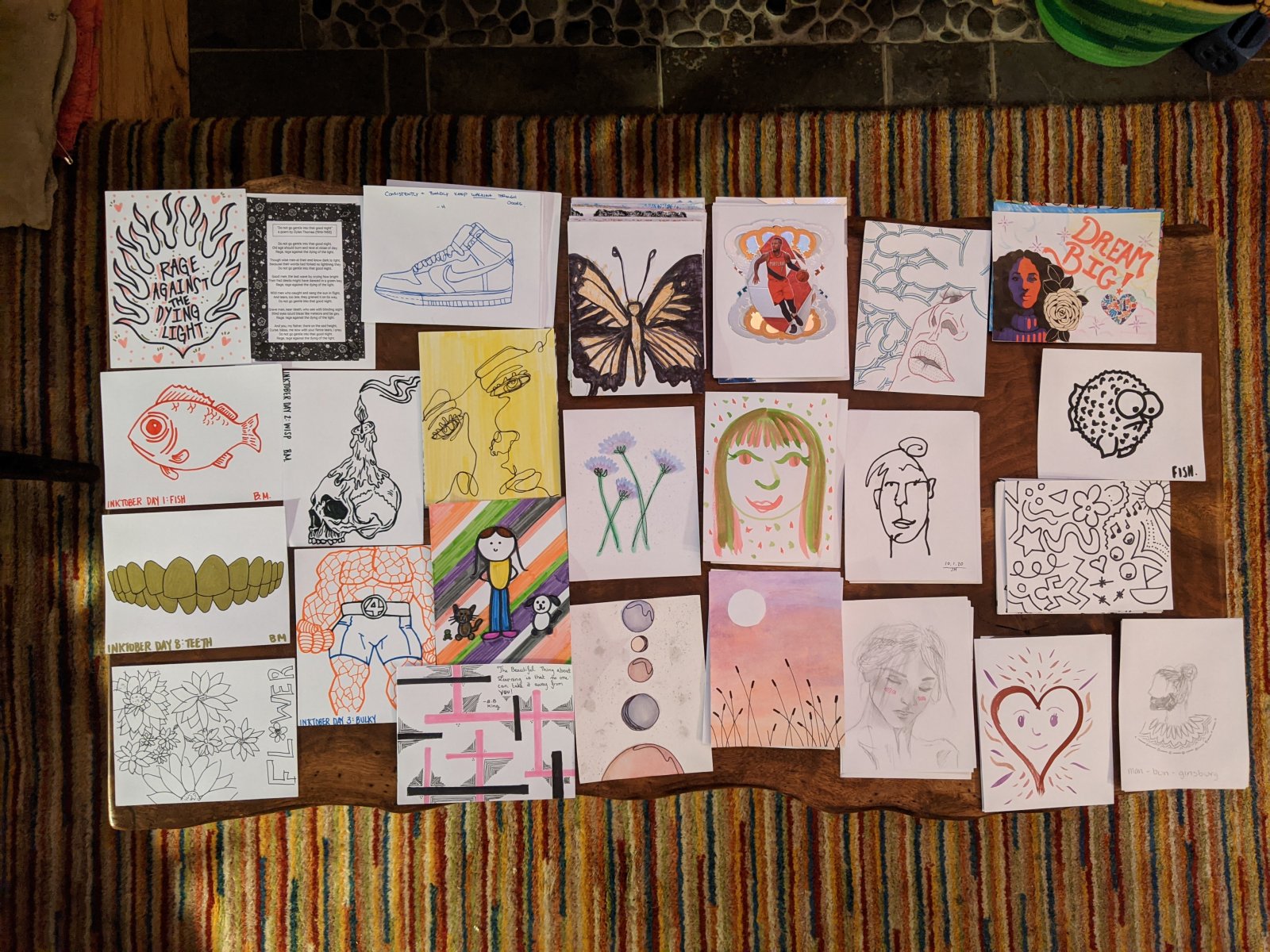 When it comes to corporate volunteerism, the pandemic has made the word "pivot" something of a buzzword. In fall 2020, Hands On collaborated with the Portland Wasserman team for their annual "Wasserman Global Day of Service" to benefit our nonprofit partner p:ear (Program: Education, Arts, & Recreation). Together, Hands On and Wasserman gathered supplies to create 250 engaging and easily transportable youth art kits for a variety of interests: acrylic painting, DIY stickers, drawing, illustration, jewelry making, journaling, and watercolors.
On October 1, Hands On hosted a 90-minute "Art Kit Assembly Party" with Team Wass PDX and p:ear staff via Zoom. p:ear's arts coordinator, Will Kendall, led a self-portrait and thoughtful message activity to make the project more personal and meaningful for volunteers and recipients alike. The assembled kits were returned to the Wasserman office and later brought to p:ear staff for distribution throughout the year. Will Kendall notes, "Enabling young people who are homeless to continue their journey into creative learning is vital. Thank you so much to the good folks at Wasserman for the amazing support. It will go a long way towards helping youth cope with trauma and express themselves creatively!"
It's been a tough year in so many ways, yet we are so inspired by our partners' and volunteers' dedication and adaptability during this time. It's a huge buoy for me personally as a program manager to still be able to connect volunteers offering their energy and resources with partner organizations offering opportunities for them to serve. As Emily Coleman from Transition Projects tells us, "Many of our regular volunteer meal providers have been amazing at adapting to cooking from home and delivering meals. We had several individual volunteers stick with us through the year and new folks join in to make up for those who had to step down. We've been awed by the community support - but of course, can't wait to return to on-site service as our volunteers remember it!" Well said, Emily.
To our incredible volunteers and partners from our team here at Hands On Greater Portland, thank you. It is truly our honor to serve the community alongside you all; we look forward to continuing to support our partners and their evolving volunteer programs for a long time to come. Wishing everyone a happy Global Volunteer Month! 
There are still ways to volunteer and support your community during COVID-19. Take a look at our current list of volunteer opportunities to get started. 
You can make a difference for kids and families