Clackamas Service Center is a smaller non-profit, doing BIG things.
Hunger is not an insoluble, nor an isolated, issue. This ethos drives the work of Clackamas Service Center, a non-profit based in Clackamas County providing community, food, hygiene and resilience to families and individuals seeking it. The 501(c)3 founded in 1973 has served as a vital community hub for low- and no-income Portlanders and is currently the largest food pantry in the county. They embody their core values in the work they do, providing trauma-informed care and centering the inherent dignity of those they walk alongside. And lately, they've been seeing a drastic increase in demand for their services. 
"Where people struggle is humanizing the problem," said Debra Mason, Executive Director of Clackamas Service Center. "We're really a balance, we're offering food to offset the costs of so many other important things people need."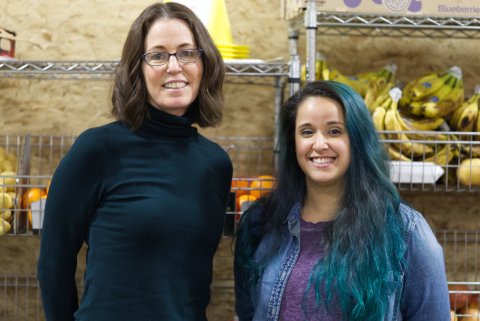 Throughout the COVID-19 pandemic, demand for increased support has soared. In response, Clackamas Service Center has increased their food storage capacity by 800 percent, begun offering home delivery in six relevant languages, drastically upped the poundage of food being delivered and more than doubled the number of families they serve. The group's new Food Hub officially opened in late 2021, offering them a new space to intake and store food donations. 70 percent of the households taking home delivery from the group had a COVID positive case in January.  They are now moving over 70,000lbs of food a month, with the goal to take that number over 100,000lbs. More than 4,000 families receive help from the group each month.
"This is all because of the culture of sharing Tabitha has created," Mason continued.
Tabitha Alajmi, Director of Food Operations, Clackamas Service Center
Tabitha Alajmi, Clackamas Service Center's Director of Food Operations, has instilled a culture of sharing that bucks the traditional model of many non-profits. Alajmi has championed relationships with many local businesses, nonprofits and mutual aid groups to increase the group's outreach and capacity. The idea being, if Clackamas Service Center can intake donations, the group can find someone willing to help get these goods where they need to be. This requires a constant focus on building trusting relationships, seeking new partners and being open to non-traditional methods of getting the integral job they do done. 
"The traditional model is too siloed, too individualistic," Alajmi said. "We tend to flourish when we work from a community mindset. I can't do everything; I shouldn't do everything. When we all work together, beautiful things can happen, and happen quickly."
This mentality manifests in a multitude of ways. One poignant example of its success was in 2020, when Clackamas Service Center was integral to providing support for those affected by the wildfires in the county and state. They were able to quickly correspond and collaborate with other organizations and businesses to funnel the support their community needed to those who needed it. In one instance, they were able to fast-track aid to Immigrant Mutual Aid Coalition, a local partnership of members from immigrant rights and social justice organizations. This helped 40 immigrant farmworker families directly affected by the wildfires keep hope and stay strong during trying times. 
"We have a real distinct advantage being a smaller non-profit doing big things. Working to fill the gaps," said Mason. "We try and be as inclusive as possible, a one-stop location. If we can't do something, we look for partners who can and outsource it to them."
Clackamas Service Center is a small non-profit, doing big things. Their personal, relationship-focused model allows them to navigate complications with agility, cutting through bureaucracy and red tape to best meet the needs of those they work with. Supported by United Way of the Columbia-Willamette's unrestricted funds, Clackamas Service Center has been able to continue it's necessary, beneficial work throughout the pandemic.
Their increased demand has allowed them to grow, seeking a more inclusive and culturally relevant service model. The group is currently looking to expand its offerings to provide a more diverse array of goods, hoping to better serve immigrant and refugee populations in the county. Clackamas Service Center has built relationships with Afghan Support Network and Portland Refugee Support Group to learn more about the communities they serve. Both Mason and Alajmi understand that food, and eating food together, has strong effects on morale, community and belonging. They want those who are already so displaced from the homes they knew to have access to food and services that can make them feel at home.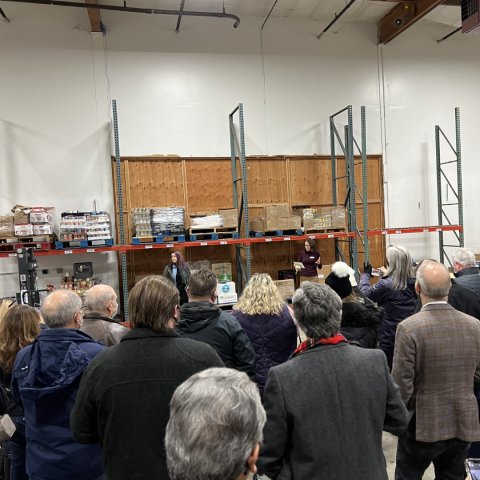 "We can't assume we know what Afghani or Somali refugees need or want to eat," Alajmi said. "So, we're trying to make a bigger shift to be more culturally responsive and provide appropriate food. It's what people deserve"
Additionally, Clackamas Service Center accommodates a variety of dietary needs; diabetics, those who need a low sodium diet, lactose and gluten free eaters, vegetarians and vegans will all find food they can enjoy here. 
The group is continuing to improve their services, and looking forward to their annual fundraiser, Harvesting Hope. The event, which will be virtual again this year, will be celebrating its 7th year and invites the community to dine together and hear the stories of the communities affected by Clackamas Service Center's work. They are in constant need of volunteers to help operations run smoothly, and vaccinated individuals interested can get involved Monday-Thursday by signing up on their website. 
"People are still being served and [the pandemic] is far from ideal, but the Food Hub came out of the pandemic. It's unfortunate that we've had to grow so much, but we're doing good work," Mason concluded. "You're going to get help from us no matter what."