Photos: Gabriel Olson for United Way of the Columbia-Willamette
"We think magic happens when books end up in homes," said Danielle Swope, who founded the local nonprofit Children's Book Bank in 2008 to connect unused and outgrown children's books—and the love of learning that comes with them—with kids in the Portland region who otherwise might not have any of their own.
Young My'king certainly felt that magic when he opened his very own bag of books, his huge grin brightening a recent December morning. But those books didn't just magically appear in his Northeast Portland Head Start classroom.
"All of this happens with the hands of volunteers." Danielle explained how the Book Bank has grown since her first post on United Way's Hands On Greater Portland website seeking a dozen volunteers to sort books for two hours.
Eight years later, the Book Bank now hosts approximately five volunteer sessions each week; nearly 3,000 local residents are a part of the movement to bring reading into the lives of every child in our region.
"From going through your bookshelves at home, bringing them to the Book Bank, cleaning them, sorting them, putting them in bundles, delivering them—that's the power of so many hands. The books get handed off from one set of volunteers to the next to complete the circle, getting the book from your shelf into the hands of a child who needs it."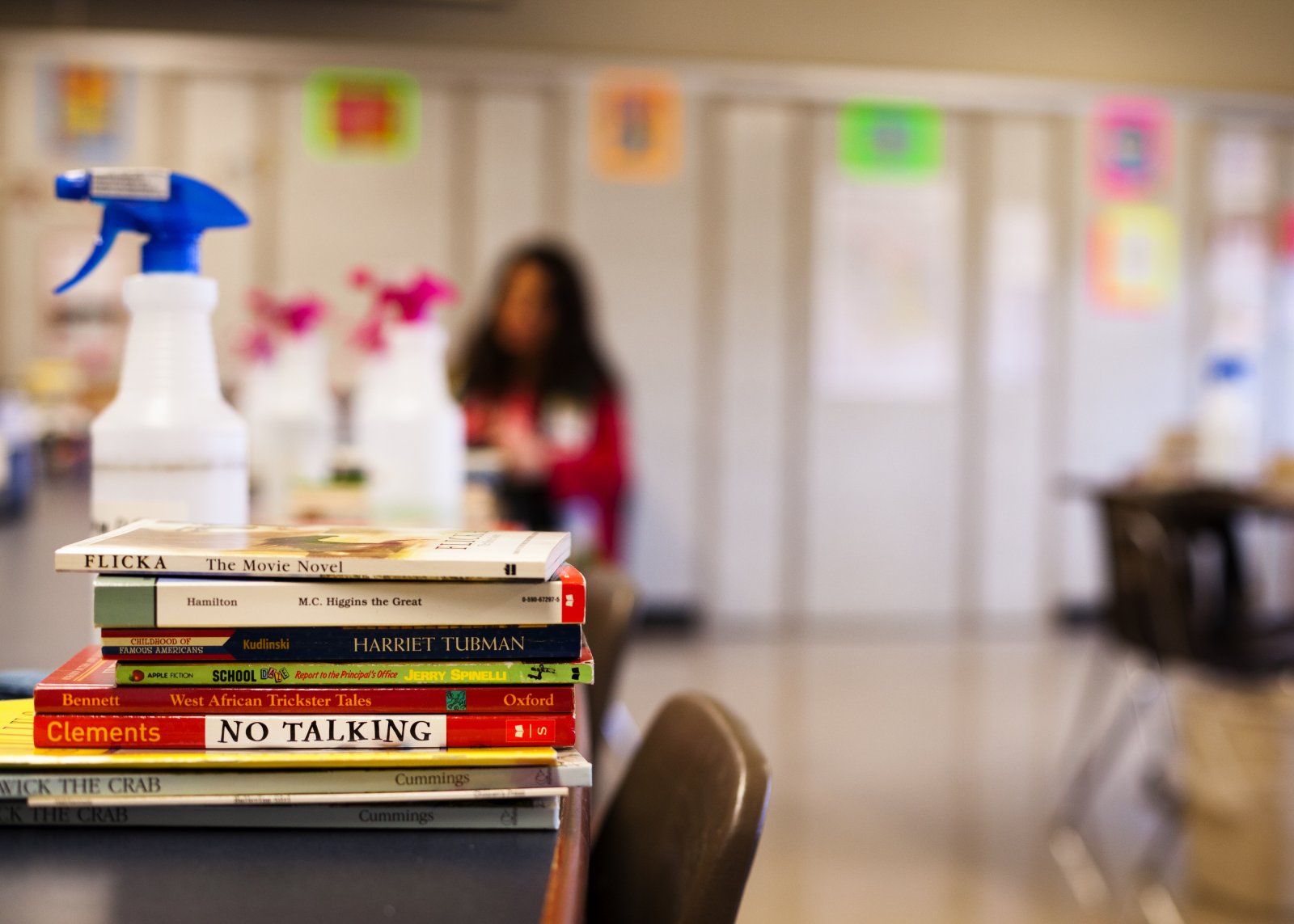 Community Book Bank puts more than 100,000 books into the hands of approximately 4,000 Head Start preschoolers and 3,000 school-aged kids every year.
It's a community-fueled effort focused on both the immediate impact and long-term transformation, knowing that access to books and regular reading time at home greatly increase students' educational achievement and likelihood to graduate on time in the future. Like United Way, the Children's Book Bank and their volunteers know that these successes are key to lifting families out of poverty.
"Our hopes and dreams for these books is that they spark the imagination, that they help build the bonds between children and their parents and that they nurture kids' curiosity and future success in school," Danielle told a group of about 50 volunteers gathered to clean books.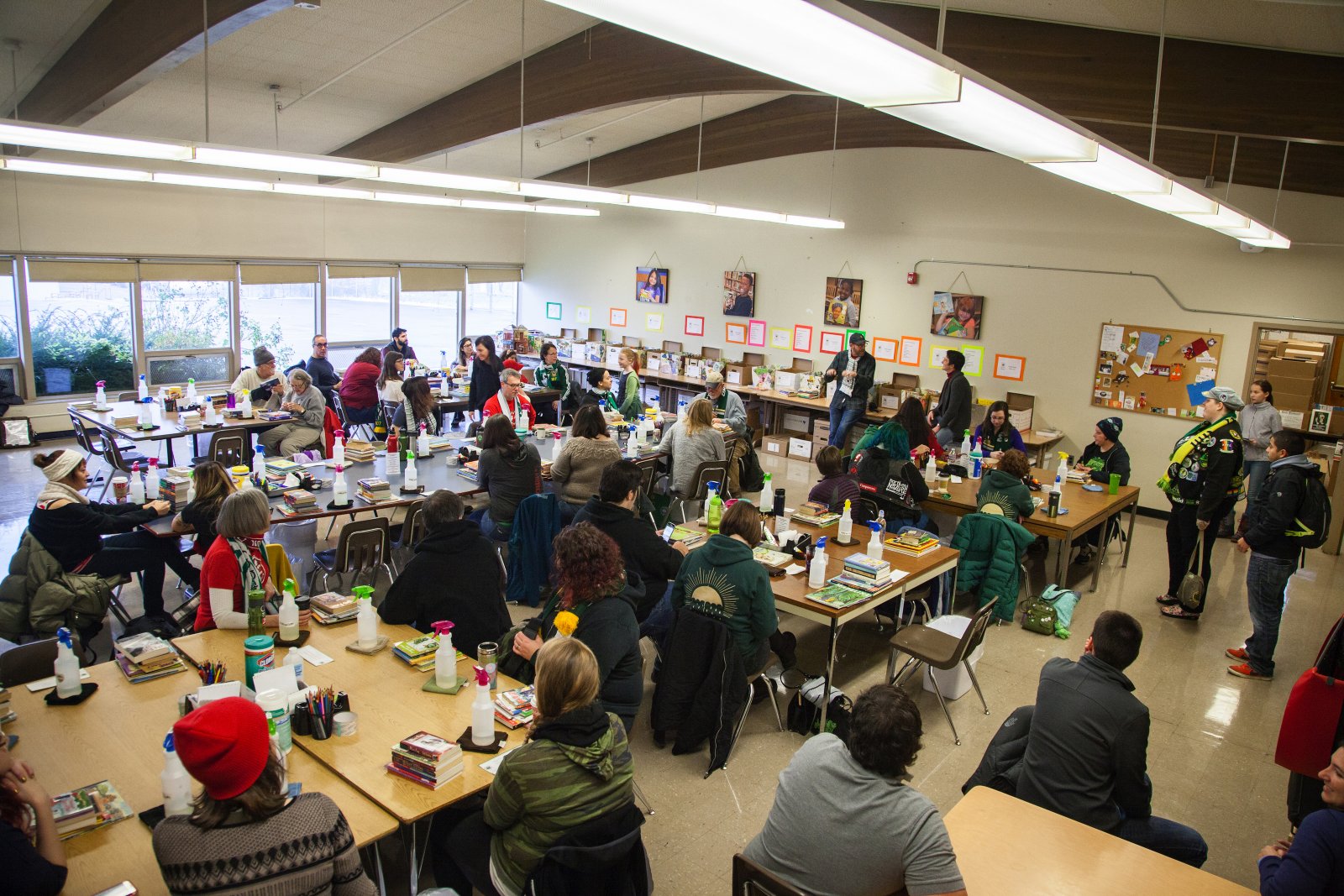 Book cleaning events like this one—with members of the 107 Independent Supporters Trust, the community outreach and organizational branch of the Timbers Army and Rose City Riveters soccer fan groups—are a popular way to first get involved with the Children's Book Bank.
"There's a sense of making a really tangible contribution—'I just cleaned 10 books, now there is a child who will grow up with books,'" Danielle said of the impact of just a few hours of volunteering. Individuals and families can sign up to volunteer on the Hands On Greater Portland website or schedule groups from work, school and other social connections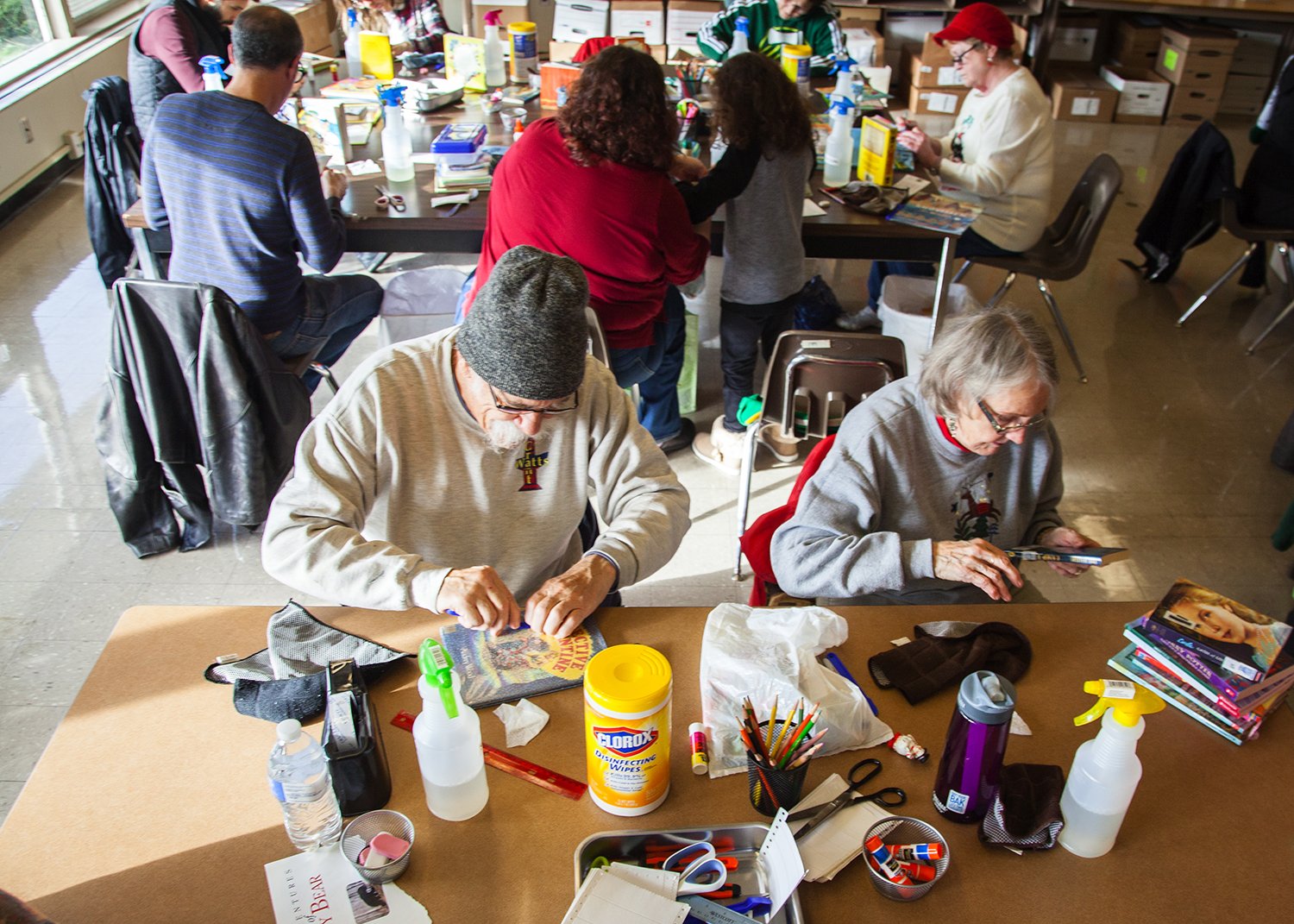 Charlotte and Mike Kocher, long-time education advocates and Mike a former school board member, have been volunteering here since the first requests went out in 2008. "We are both big believers that if you don't teach a child to read by first grade, you have already lost them. You won't get them to graduate," Charlotte said explaining their commitment to the work.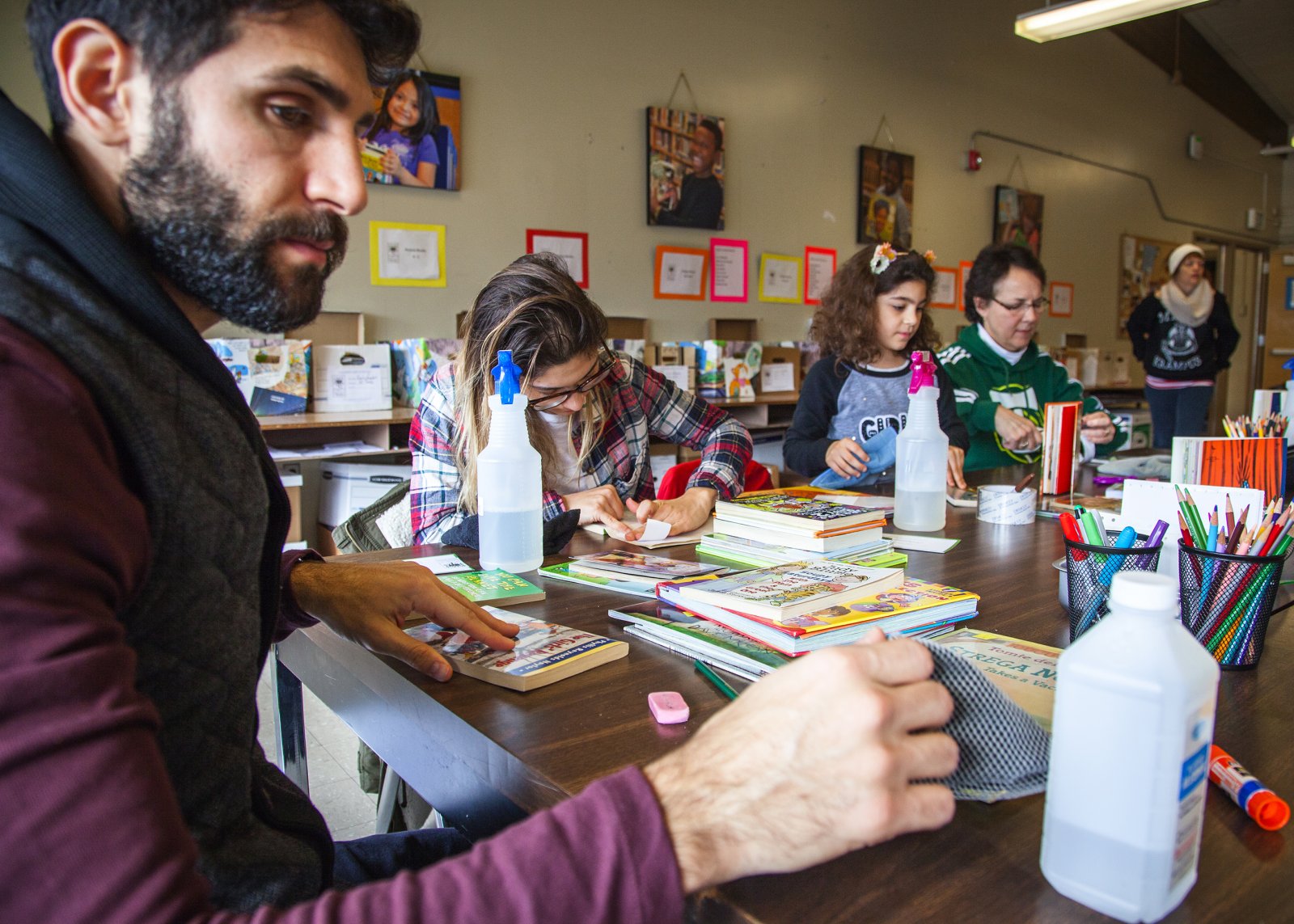 This Timbers Army volunteer session in early December was sparked by Timbers star midfielder Diego Valeri (left), who wanted to involve his wife Florencia and seven-year-old daughter Constanza (pictured to his right) in a volunteer activity to give back to their adopted hometown.
"I want the Book Bank to be a place where anybody can come and make a difference," said Danielle, referring to their dedicated family-friendly times when parents can involve children as young as four in the volunteer experience.
"The amazing part of our story is really the volunteers and honestly how grassroots this is," Danielle explained of the exponential growth of the program in the last eight years, simply through word of mouth. Hands On has been crucial, she added, to make the most of the increasing requests from people to get involved.
Many people, like the Valeris, volunteer first at a cleaning session and are then inspired to bring friends (or an entire fan group!) or host a book drive in their own community to gather donations for the Book Bank.
"There's some people in the world who just care for themselves and they don't even care about other people. We should give for everyone," seven-year-old Constanza Valeri explained of her book drive project. "I feel really nice about this.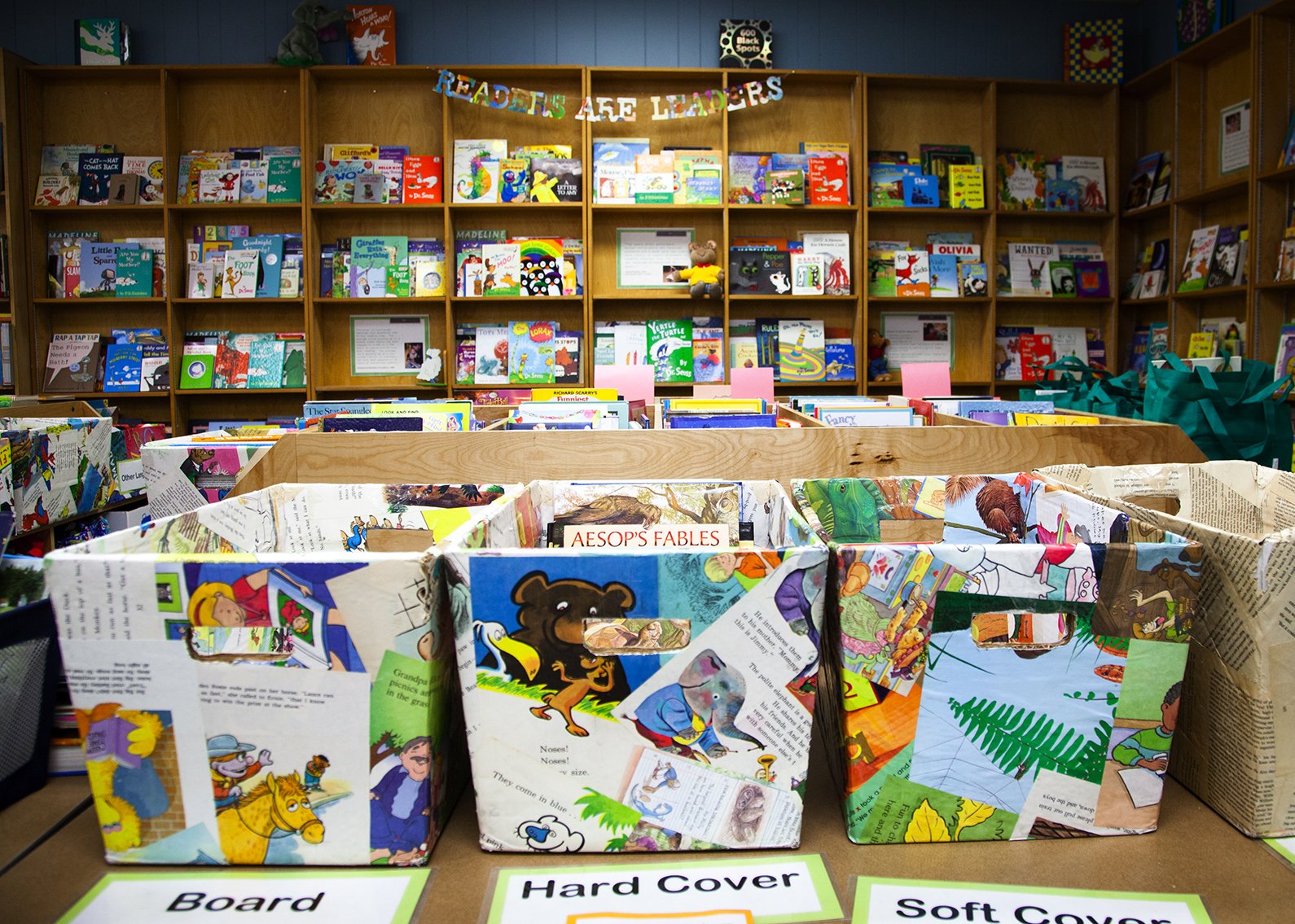 What's especially unique about the Children's Book Bank is how much time each volunteer puts into every single donated book to make them like new. Scribbles are erased, stickers delicately removed, library pockets cut out, tears repaired and damaged pages colored in with an artistic touch.
"That every book is treated with such love and care and intention sends a message to families who are receiving the books that you are valued, you are loved, you are a part of our community," Danielle said.
"Our work is trying to make sure that kids and families have books before they step into kindergarten," explained Danielle, noting that helping children become familiar with books and develop positive associations with reading is directly connected with their later success reading and learning in school.
Two-thirds of low-income children own no books at home, as parents struggle to provide basic needs and can't afford to buy new books. They are missing the critical at-home reading time that increases their chances for success in kindergarten and beyond and starting behind in these earliest years makes it exponentially more difficult to catch up.
The Children's Book Bank aims to fill this gap by partnering with local children's programs like Head Start preschools to provide book bundles for every child to take home. "These programs do a great job of encouraging parents to read to their children every day, but what if they don't have books at home?" Danielle pointed out. "In many of these homes, the books that we provide are the very first books that children receive."
"We know that for kids to really engage with a book, they need to see themselves in the book," Danielle noted. In an effort to provide more diverse stories, the Children's Book Bank began the "Stories Like Mine" campaign a year ago to raise funds to purchase culturally-representative and bilingual books.
For now, the books are sorted into culturally-specific bundles, but eventually "our goal is that all the books we provide to all children reflect the diversity of our community."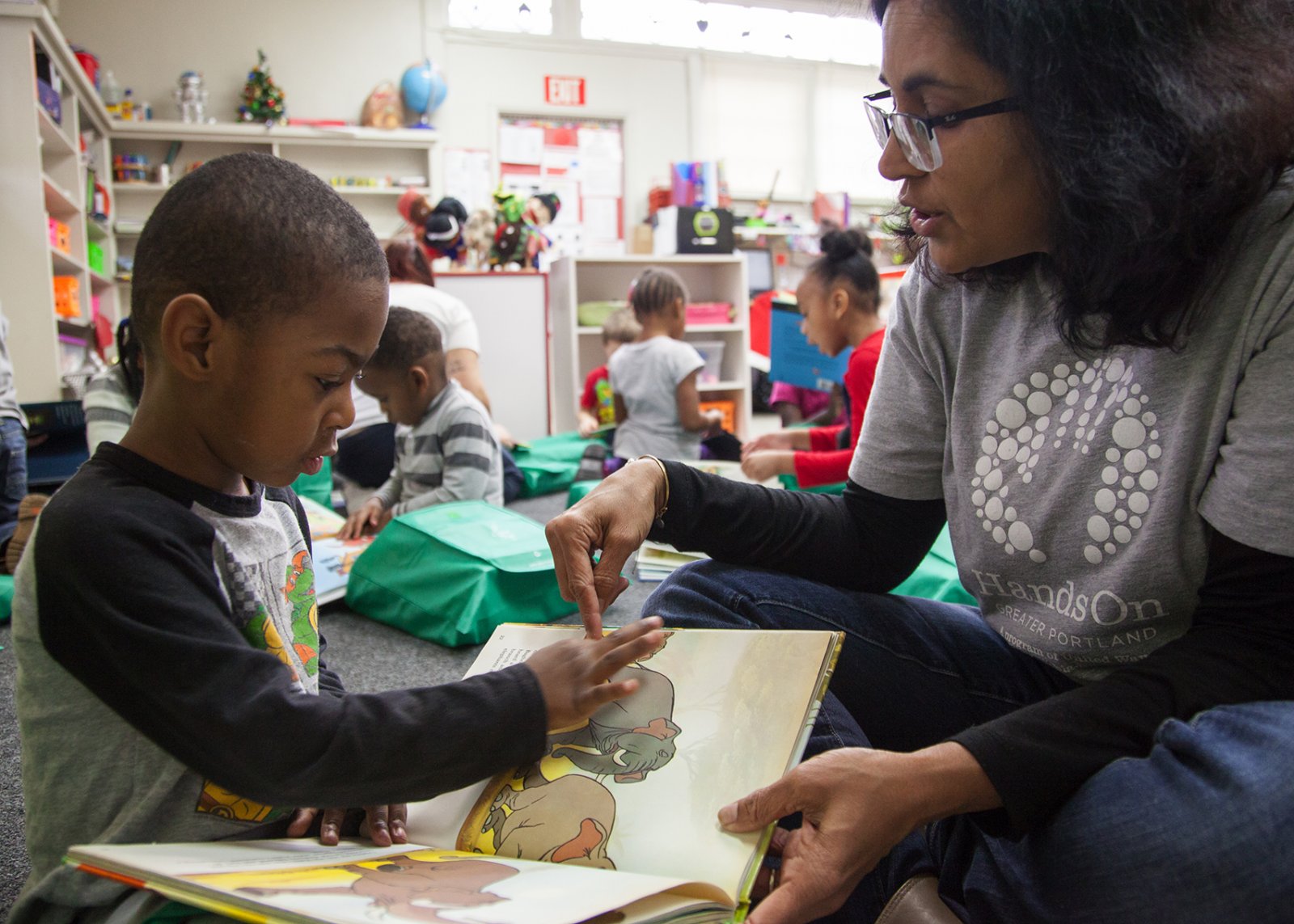 Danielle and the Children's Book Bank have an ambitious goal to double the amount of donated books and reach thousands more children in the next few years. And that's something she never could have imagined being able to do without the community of volunteers, like Jalaja Uppili (pictured above), who keep showing up to fuel the work.
"I just had this idea, and now all these people want to help. So many of those connections, bringing the community together with us, has happened through Hands On Greater Portland," Danielle said.
Bringing volunteers together to put life-changing books into the hands of local kids is just one way that United Way is "activating the village" to invest in our region's children. Local nonprofits serving kids rely on volunteers (like you!) to provide vital capacity.
Sign up to volunteer during MLK Weekend of Service! Hands on Greater Portland has dozens of opportunities available.