Courtesy of Unete - Community-based organizations like Unete deliver on promises made to their neighbors.
At United Way of the Columbia-Willamette, we value those who are closest to the crises. The knowledge and experience of those working within communities, especially in times of crisis, should be paramount. Their voices should be held in highest regard around the tables where decisions are made. Whether concerning the housing crisis, educational outcomes or, in the case of Unete, a drive to vaccinate Oregonians in Jackson County as well as help them recover from devastating wildfires, community-based organizations with firsthand knowledge are prioritized when United Way of the Columbia-Willamette distributes support. 
Unete, Center for Farmworkers and Immigrant Advocacy began on a couch in Kathy Keesee's living room. After being promised contract agreements at Harry & David orchards only for those agreements to be reneged on, her husband, Dagoberto Morales, began an impromptu strike on a hot, summer day at the peak of the harvest. As the farmworkers took a seat in the shade, a panicked foreman came over to see what the problem was.
"My husband had done advocacy work before, and when they said they wouldn't honor the contract he told his coworkers to stop picking," said Kathy Keesee, Program Coordinator at Unete. "It was the heart of the harvest, it was hot, and they knew the fruit would rot. The foreman came over, and my husband said, 'Honor the contract or we won't pick." 
They were determined to fight for the rights of essential but oft mistreated laborers and began their effort to form Unete in 1996. Keesee and her husband saw this anti-worker behavior frequently at orchards and packing plants in and around Medford, OR. And they weren't alone. Multiple lawsuits have been levied against the food gifts merchant, including one as recent as 2021. The organization stayed laser-focused on labor rights and better representation of farmworkers and immigrants, advocating for legislation that guaranteed overtime for Oregon's farm workers, organizing boycotts of particularly anti-worker brands and more. However, it wasn't until the raging wildfires and COVID-19 pandemic of 2020 that the community-based organization was forced to expand its purview.
The overwhelming combination of COVID and devastating wildfires left Unete in a unique position to tackle the fallout, but traditional fundraising models have failed smaller community-based organizations like theirs. This despite the fact that when community-based organizations receive funds in the wake of disaster, those funds are more efficiently and equally dispersed to the community at large. Folks like Kathy and the Unete team are community members of those affected and deeply integrated into a specific culture that often can be misunderstood and underserved by larger, out-of-area organizations. Disaster capitalism has left plenty of communities in the lurch while enriching a few companies and people. Kathy also criticized the nonprofit model that accumulates funding in a few well-known organizations that send that money downstream, often near the end of their fiscal year, leaving smaller non-profits unable to plan for and disperse the funds well.
However, thankfully, some organizations and state agencies have begun to see the waste that lies at the heart of this traditional model. This shift included United Way of the Columbia-Willamette's creation of the Wildfire Response and Recovery Fund a month after the fires. In times of disasters, United Way of the Columbia-Willamette has heard from our nonprofit partners on the ground that vulnerable communities, including Black, Indigenous, and People of Color (BIPOC) communities, generally feel comfortable seeking support from organizations where they have trusted relationships. Our Wildfire Response and Recovery Fund recognized that fact by prioritizing direct and unrestricted dollars to culturally specific organizations like Unete.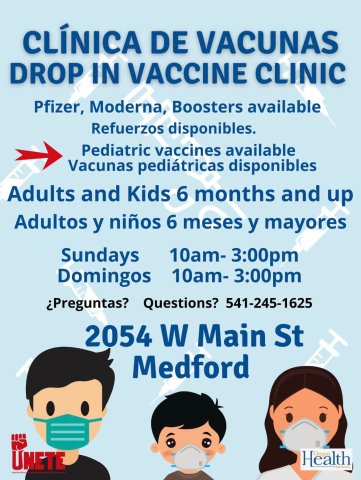 "If the community isn't invited to the decision-making table, you're never going to hit your targets," Keesee said. "That attitude shifted and now we suddenly had funding coming straight to us and other organizations like ours."
In response to the fires Unete transformed from an advocacy organization into a direct service organization overnight. Prior to 2020, the organization had one full-time employee, now they have seven full-time employees. As money flowed into Jackson County, they spearheaded an effort to get dollars in the pockets of those with still smoldering homes, hot food in their bellies and culturally specific advice on how to access support going forward. 
"We were getting notifications on our phones from donations coming in," Keesee said. "It was just a constant influx of donations for two weeks straight."
The chaos of transforming their organization while simultaneously supporting their community through a pandemic and the wildfires left Unete with wind under their sails and a multitude of new missions to pursue. They were able to hand out over 18,000 meals to those affected through a partnership with Rogue Food Unites. They provided timely bilingual emergency disaster evacuation updates and resources that no other organization could. They continue to advocate for an equitable rebuild in the region.
"Our role in the whole rebuild is to be a thorn in the sides of those in power," Keesee said. "We have to ensure the voices of those impacted are brought to the table and heard. The low-income housing projects haven't even started yet, and yet we're seeing so many for-profit homes being built in our community."
Keesee stresses that other organizations around the country need to get on board early with a model similar to the Wildfire Response and Recovery Fund, because there will be a lot of money coming in when crises strike. For profit companies will look to exploit that increase in funds while community-based organizations need to be prepared to take advantage of that influx of donations. She lamented the state of four hotels that were bought by Fortify Holdings in the months after the 2020 wildfires. These hotels were turned into "efficiency apartments" for those who had lost their homes, but Keesee said their conditions were abysmal. She insisted that this is the disaster capitalism that profits from community members more than it helps them. 
"The interest passes quickly. Here it's been all but forgotten and there's still a lot of need for support," Keesee said. "The number of seniors, 75 and up, who are staying in shelters still… there's so many women who are 80 years old and up in the women's shelter now because they lost everything and they can't afford rent." 
Throughout all this wildfire work, Unete was also distributing and administering COVID-19 information and testing. When the vaccine became available, they had an uphill battle to fight in Jackson County, where misinformation and diverse political leanings lead to low initial vaccination rates and high COVID cases per capita. A friend of Keesee's who worked in the health industry visited one of the first vaccine pop-ups in the county, and was horrified by what she found.
"My friend left crying, terrified of what this virus would do to our population," Keesee said. "She asked, 'How are you going to serve the folks here who speak Spanish?' They said, 'Oh, we hadn't really thought about that.'"
This clinic, as was true with many involved in the early outreach around the vaccine, was geared toward white, English-speaking Americans. Those interested in taking the vaccine had to call to get an appointment, and no one at the clinic spoke Spanish. It was open only from 8am to 4pm, hours when many of the population Unete serves are at work. As reports came in showing that 56 percent of all COVID cases in Jackson County were in the Latino community, fear set in. 
"I remember thinking there's going to be a lot more death if we can't figure out something," Keesee said. "I wholeheartedly believe that without that clinic we'd have seen a lot more deaths."
Soon, FEMA and other organizations, including United Way of the Columbia-Willamette, recognized the danger as well. We responded with our Vaccine Fund in 2021, which supported efforts of community partners like Unete in vaccine advocacy, access and education. FEMA responded with an infusion of funds directed at high-risk and BIPOC areas and soon had set up a big clinic at the Expo in Medford, OR. Though better than the initial vaccine rollout, Unete still saw inaccessibility as an issue for their Latino community. They began working with local business leaders to set up their own vaccine pop-up in culturally-relevant places. They organized these consistently for months, sometimes vaccinating up to 120 people a day. Back in March of 2022, they celebrated over 5,000 vaccinations and are still up and running today, long after FEMA and other organizations have left town.
As we enter yet another potentially dangerous wildfire season and new wave of COVID-19, Unete is dedicated to hardening Jackson County and supporting those still reeling from past wildfires and the years of pandemic struggles. Their advocacy work is in full force as well: their main focus being the fight for the rights of those working in the illegal cannabis industry. Keesee says they receive calls from workers in that industry daily, complaining of abhorrent working conditions, pay being denied and criminal threats.
"We're doing a lot of keeping our fingers crossed these days, hoping the fires aren't as bad as they were," Keesee said. "We're keeping a good relationship with the County, with other nonprofits and CBOs like Rogue Food Unites. But now with the drought, a lot of grape pickers have been laid off, and with the price of gas, food, everything rising, they'll have to find work somewhere." 
That desperation drives people into the exploitative arms of cartels running the illegal cannabis industry in Oregon. Unete, along with some other community-based organizations such as Raíces de Bienestar and PCUN, recently received money from the Illegal Marijuana Market Enforcement Grant to address this issue. But for Kathy Keesee, the work is far from done. 
"We appreciate the financial support we've received, but we need to have more progress in bringing BIPOC voices to the decision-making tables," Keesee concluded. "Most importantly, they need to be listened to, taken seriously and allowed to lead." 
For more information on Unete, visit their website here.