Our Disaster Resilience Learning Collaborative seeks strength that could only come from collective care.
Resilience requires constant contributions and care. Fostering a stronger, tighter-knit community does not happen with a single instance of support, but instead this type of resilience blossoms from continual introspection, interest and investment. That's why United Way of the Columbia-Willamette, Oregon Health Authority, and Trauma Informed Oregon envisioned and put into action the Disaster Resilience Learning Collaborative. And we're pleased to report the success of our pilot program, which invited leaders of community-based organizations throughout Oregon. The Disaster Resilience Learning Collaborative is a response to the ongoing and increasing threat of climate related disasters in our region. This cross-sector partnership brought together 28 community leaders of color with the purpose of advancing equitable disaster resilience through healing-centered, culturally-grounded collaborations and actions.
The pilot program launched in 2021 and convened 15 community-based organizations to collaborate in a seven-week multilingual virtual gathering to support leaders that work within harmed communities. The focus was to create healing and recovery by restoring their identity through collective storytelling and discussions around climate health and upstream solutions to disasters. Exploring personal and community wellness and healing was paramount as we empowered these leaders to better serve their communities.
- Michele Pinkham, Community Engagement and Development Specialist at Native American Rehabilitation Association NW, Inc.
The pilot program was separated into two cohorts. The first cohort included staff from Oregon's Latinx and Indigenous groups who were disproportionately affected by the wildfires of 2020 as well as leaders of color whose organizations received funding from either United Way of the Columbia-Willamette or Oregon Health Authority for their service to their communities during the wildfires. The second cohort, led separately by Oregon Health Authority, included public sector staff with an interest in disaster preparedness, response and resilience.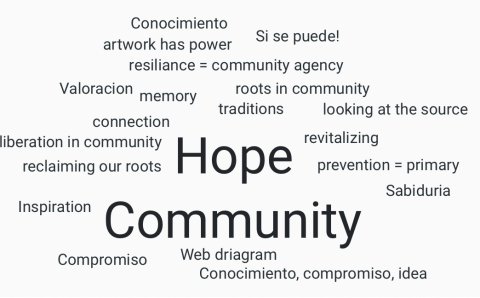 "I feel like I was seen as a whole person rather than just somebody that's coming to a training," said Daysi Bedolla Sotelo, a Disaster Resilience Learning Collaborative participant and Organizing Director at Pineros Y Campesinos Unidos del Noroeste. "What I really appreciated about the collaborative was there were other communities represented and they have different identities. I think that's very important to have different voices at the table, to uplift and to see those systematic changes that we all hope for in the future."
This exploration of personal and collective power, with the overarching goal of shifting systems built in inequity, allowed for transformative discussion centered around communities of color. The learning collaborative was envisioned as a space for leaders to build relationships, center cultural ways of healing and reimagine how disaster response strategies can better serve all people in our region.
"The Disaster Resilience Learning Collaborative is a collective based in care. There are times that statewide power is needed–and [with a collaborative network] there are ways for us to support each other, even though our communities are specific to us, regardless of how many identities we share," said Blanca Gutierrez, Collaborative participant and Bilingual Organizer at Rogue Climate. "I liked the conversation around resilience and getting to hear how others were defining it and were adding to our [collective] definition, and having that space where we could validate each other on what that meant. At times, outside of those spaces if institutions sometimes talk about resilience, it can feel clinical."
Following the educational series, organizations who participated were invited to apply for grants to implement projects intended to foster climate resilience and social connections for communities of color affected by climate-related disasters. Communities define and create resilience in a multitude of ways, and this work allowed us to explore those differences and synergize between the diversity of thought and practice we found throughout this partnership. 
"United Way of the Columbia-Willamette was proud to allocate many of these grant funds this month, starting the new year off by putting our support behind those we trust and have grown to know over the course of many meetings with our staff and partners," said Cindy Adams, United Way of the Columbia-Willamette CEO.
These efforts were informed by the community we sought to help, leading to a more trusting relationship built between us at United Way of the Columbia-Willamette and our partners. Our sessions throughout 2021 went from deep dives into the drastic effects of climate change to nuanced discussions of how forming a space for connection and belonging can restore identity and support healing for those working with communities experiencing trauma. We remain steadfast in our commitment to engage with our community and learn what they need, and express deep gratitude to our 2021 Disaster Resilience Learning Collaborative participants. Together, we can all build a more resilient future.