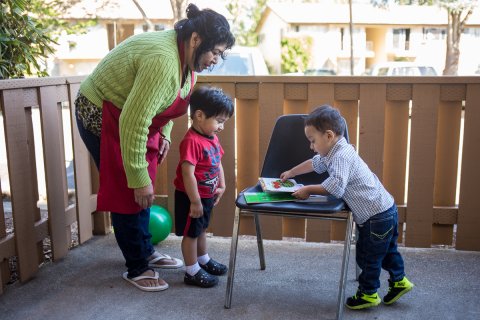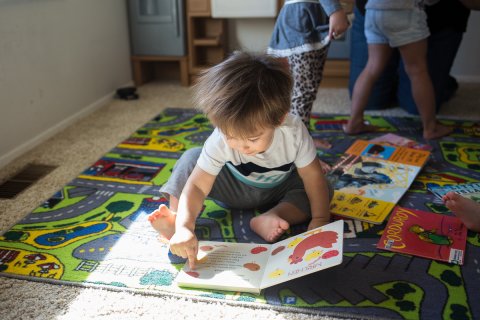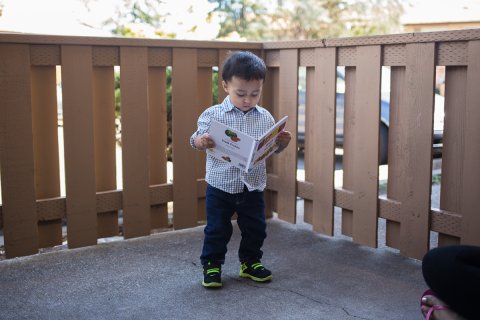 Desplácese hacia abajo para acceder al contenido en español. 
The evidence is resounding - early exposure to books is critical to a child's long-term educational success. When kids start school behind, they rarely catch up.
A unique partnership between Washington County Cooperative Library Services, Community Action and Early Learning Washington County, an initiative co-led by United Way,  is working to ensure that every kid - regardless of race, ethnicity, or class - is prepared for Kindergarten. 
Books for Kids/Libros Para Niños delivers mobile libraries (refreshed monthly) to license-exempt child care providers in geographic hot spots across Washington County, where social or economic conditions are more likely to prevent families from making frequent purchases in book stores. Un-licensed caregivers are not required to obtain continuing education credits, and have less access to trainings and resources.
Each month providers receive a bin of fifty high-quality picture books, board books, and easy nonfiction books in English or Spanish, along with tips for adults on how to build activities around the books. 
The providers have been incredibly enthusiastic. The number of storytimes they reported conducting with the kids grew over 84% between the first and second month, averaging out to nearly two per day.
Since the program began in 2015, 43 childcare providers have participated, reaching over 231 children ages 0-6. Each provider will receive the book deliveries for six months, and at the end of the program will be given resources to continue the literacy activities they've established. Books for Kids/Libros Para Niños will then identify a new cohort of caregivers and begin the process again. 
United Way is proud to co-lead two new regional hubs focused on early learning: Early Learning Multnomah (ELM) and Early Learning Washington County (ELWC). Both hubs are designed to prepare every child to succeed in school and life, regardless of race, ethnicity or class.  Learn more.
La Colaboración Comunitaria entrega bibliotecas móviles a proveedores de cuidado en hogares
La evidencia es rotunda, tener acceso a libros desde una edad temprana es crítico para el éxito educacional. Cuando los niños empiezan la escuela sin tener el nivel adecuado, raramente consiguen ponerse al día.
Una colaboración única entre Washington County Cooperative Library Services, Community Action y el Aprendizaje Temprano del Condado de Washington, una iniciativa co-liderada por United Way, está trabajando conjuntamente para asegurar que cada niño, independientemente de su raza, grupo étnico o clase, está preparado para el jardín de infancia (Kindergarten).
El programa de Libros Para Niños entrega mensualmente bibliotecas móviles (que se renuevan mensualmente) a proveedores de cuidado en hogares exentos de licencia en zonas en el Condado de Washington donde condiciones sociales o económicas no permiten a las familias hacer compras frecuentemente en librerías. A los proveedores de cuidado en hogares exentos de licencia no se les requiere obtener crédito de educación continua y tienen menos acceso a entrenamientos y recursos.
Cada mes, los proveedores reciben una caja con 50 libros de alta calidad en diferentes formatos tanto en Ingles como en Español, junto con actividades para los adultos/cuidadores sobre como diseñar actividades conectadas con los libros. 
La acogida por parte de los proveedores ha sido muy entusiasta. El número de cuentos infantiles y actividades relacionadas para fomentar la lectura en los niños  ha aumentado más del 84% entre el primer y el segundo mes, siendo dos el promedio de actividades por día.
Desde que el programa comenzó en el 2015, 43 proveedores de servicios de cuidado de niños han participado, sirviendo a mas de 231 niños con edades comprendidas entre 0-6. Cada proveedor recibe entregas de libros durante un periodo de 6 meses y cuando se gradúan del programa también recibe recursos para continuar apoyando las actividades literarias que ya han establecido. Books for Kids/Libros Para Niños entonces identifica un Nuevo grupo de proveedores y el proceso de entrega empieza de nuevo.
You can make a difference for kids and families