TierrAgua builds community for those that are unseen by the current system.
There can be an unnerving sense of invisibility experienced by cultures that do not dominate the norm. This is especially true for pueblos originarios, peoples who have lived the longest in a place, but have been pushed to the margins by systems that exploit their lived knowledge. TierrAgua is working to banish this invisibility, and center those in our community who come from cultures many may not know about. TierrAgua is a collaborative of pueblos originarios, indigenous peoples, that started organizing in 2016 and focuses on building community for indigenous people from Mexico and Central America who live in Oregon. The group seeks to create safe spaces for these diverse indigenous communities to share their culture, traditions and customs and preserve them by helping to pass them down through generations.
"When people move here, there's not much," said Dora Lopez, co-founder and co-director of the group. "It can be very difficult to find belonging. Our main goal is to build that sense of belonging and to promote our diverse cultures."
TierrAgua supports a multitude of families across Oregon, with a diverse set of languages, cultures and traditions. They mainly focus on Oaxacan and some Guatemalan pueblos originarios. In Oaxaca alone, there are over 30 distinct groups. TierrAgua prioritizes and honors Mixtec, Triqui, Zapoteco, Q'anjob'al and many other languages, with the hopes of balancing the assimilation immigrants go through when moving to a new place with the respect and historical precedence their cultures deserve. Additionally, the group's focus on COVID-19 relief and Kindergarten Readiness, initiatives funded by United Way of the Columbia-Willamette, kept the community they serve safe and strong during the pandemic. They ground all of their work through this lens of diverse cultures, whether that's the rent and utility assistance they offer, the food distributions they make, the weekly radio show Lopez hosts, their events, their interpretive work or their work throughout the pandemic ensuring no one misses out on imperative information.
"The reason for the cultural aspect is to change the narrative. We all went through the U.S. education process, and assimilation has been forced upon us," said a member of TierrAgua. "Many of us haven't engaged with our language and culture; In Mexico, they forced Spanish on us, forced us to forget our language and culture. Here, we are lumped in with other Latinx groups even though our background is so different, our language is different, our traditions are different."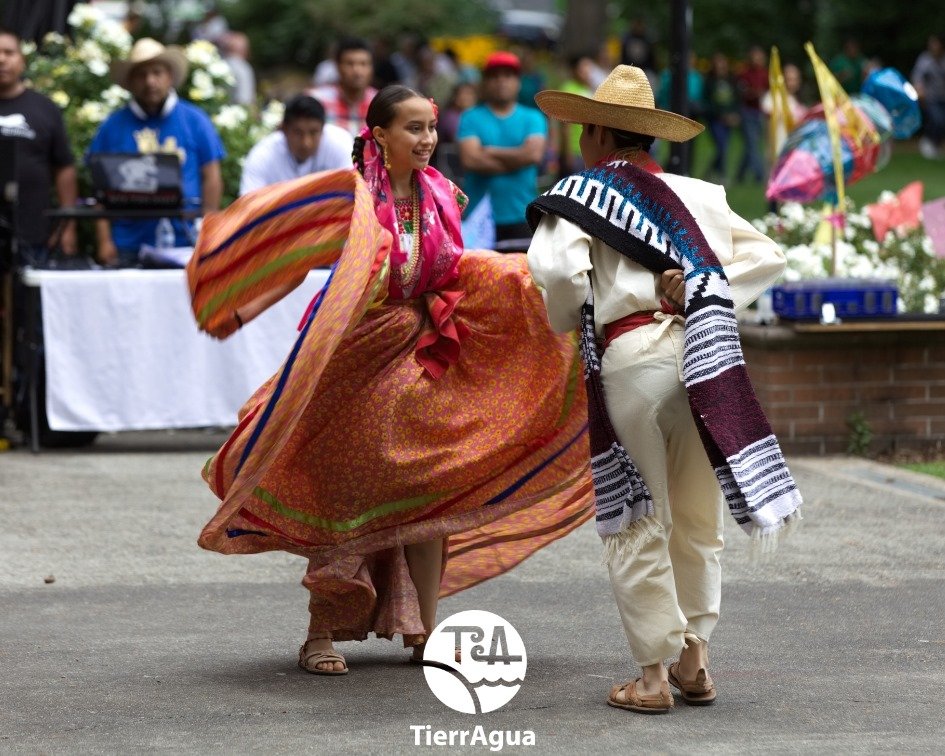 For many on the TierrAgua team, and the communities they serve, the opportunities to meet others from their culture were few and far between. TierrAgua fights back against that, hosting a yearly event called La Guelaguetza which gathers indigenous peoples from Oaxaca and beyond to celebrate their unique cultures. Hosted in Hillsboro in the summertime, it began as a celebration of the Ñuu Savi, or Mixtec, community and has grown to incorporate and uplift multiple other indigenous groups. It is held on the International Day of the World's Indigenous Peoples and sees an influx of unique cultures gather to celebrate through food, dance and the sharing of culture.
"When people hear about Mexican indigenous people, they think Aztec. But in Mexico there are Mixtec, Zapotecos, Mixes, Ayuk, Otomi, Purépechas. Every one of these groups are unique," said TierrAgua's member. "When we started having the discussion about how to support our community, we realized there wasn't a lot of information about us out there. Even though we are all somewhat interconnected, the struggles and challenges someone of Mayan descent from Guatemala may face versus someone of Mixtec ancestry are very different."
This past summer, Early Learning Washington County was able to directly partner with TierrAgua to help fund a summer camp focused on STEM with culturally relevant teaching provided by indigenous folks. Children learned a variety of skills, all while their culture was centered and taught as well. They were able to learn about indigenous history, tools and traditions from informed individuals who carried their culture with them. Hands on learning was forefront, as kids were taught about the telar, a loom used by indigenous Oaxacan groups to weave clothing. Kids got the chance to help make a huipil, a traditional Triqui garment, and share their cultures with each other and their parents.
"The parents see the work their kids are doing, and it is a starting point for them to start explaining their culture, their rituals," said Maria Bazante, a TierrAgua manager. "We are all here, integrating and learning about American culture, so much so that we are seeing less and less of our own cultures being shared. Bringing that to the forefront gets families talking, and helps to preserve their cultures in their homes."
The intrepid leaders of TierrAgua continue their work, throughout the pandemic and beyond it. They hope to continue to expand, offering more culturally specific community building to Mayan people in Oregon and many others. Their summer program was a big hit, and they hope to build off of that and expand it to offer field trips and more capacity. They offer a challenge to those who hope to support them: meet us where we are and be open minded. They want more support and visibility for non-Spanish and non-English speaking communities, asking others to introspect and wonder how they can help indigenous people succeed.
"We insist that we are here," concluded Dora. "Support the work of Mesoamerican indigenous people who live here, and ensure that support is culturally relevant and led by indigenous communities."
For more information on the group, visit their website here.