Mamook Tokatee and other housing projects are reinfusing Portland with the Native culture our city is built on.
A red, geometric pattern encircles the modern-looking, four-story podium building found in the Cully neighborhood of Northeast Portland. This pattern, emblazoned into slats of wood, represents friendship and comes from the Confederated Tribes of Siletz Indians. It rings a newly constructed housing unit that seeks to embody that friendship, offering affordable housing to Native Americans and artists in Portland. Built in Cully, on of Portland's most racially diverse neighborhoods, Mamook Tokatee (a Chinook Wawa phrase meaning "make beautiful) was constructed with equity and beauty in mind, offering 56 restricted income units for Native Americans and artists seeking studio, one-bedroom, two-bedroom and three-bedroom apartments. As revered keepers of culture, Native artists have been integral to preserving history and culture throughout the years; as the Cully neighborhood continues to gentrify and many low-income households are displaced, Mamook Tokatee will help ensure Native culture remains relevant and celebrated in Portland, a city built on Native ground.
"We wanted to bring housing to Native people, tribal members and artists," said Oscar Arana, Community Development Director at the Native American Youth and Family Center (NAYA). "We had a big focus on creating visibility for the community, not just internally within Mamook Tokatee but broadly in the Cully neighborhood and beyond. We're hoping this building becomes a central point for community and art within the neighborhood."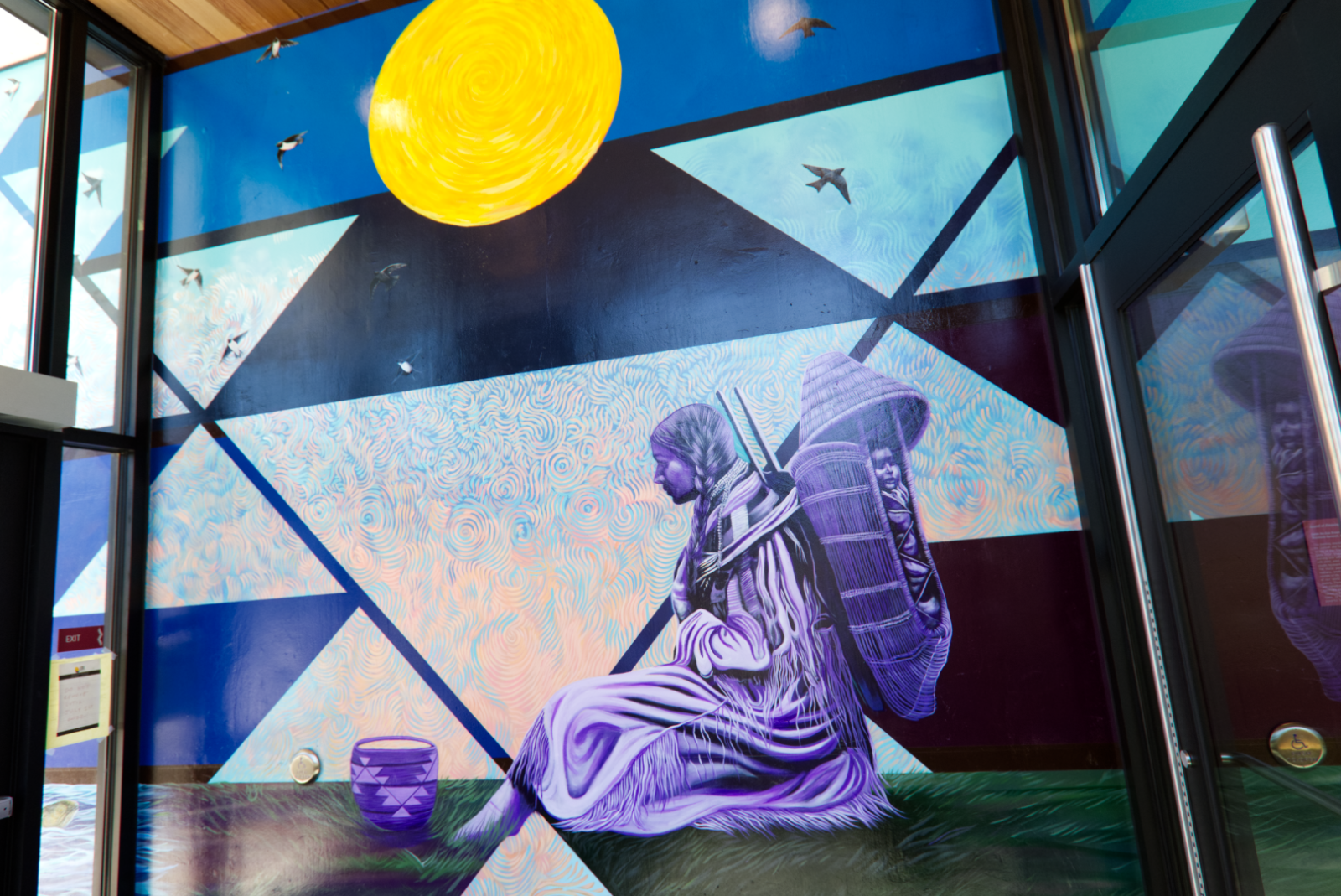 NAYA, one of United Way of the Columbia-Willamette's long-time funded partners, has championed Mamook Tokatee as their second affordable housing unit in Portland. Along with Community Development Partners, the Confederated Tribes of Siletz Indians and the Native American Rehabilitation Association of the Northwest, NAYA has built two other housing unit: Hayu Tilixam (Many Nations) and Nesika Illahee (Our Place). NAYA and their partners were also proud to bring the first ever modular housing project to Portland, Kah San Chako Haws (East House in Chinook Jargon), which offers affordable, sustainable, LEED-certified housing to Eastside Portlanders. The focus on housing is integral to the work NAYA does to ensure that Native culture is preserved and Native Americans are not pushed out of the city.
Before breaking ground on Mamook Tokatee, Oscar and the NAYA team held extensive meetings with focus groups and neighbors to ensure that residents were provided with what they needed.
"The idea is to let residents inform what kind of services and amenities we offer rather than prescribing them services and amenities we think they may need," said Ann Takamoto, Director of Development and Communications at NAYA.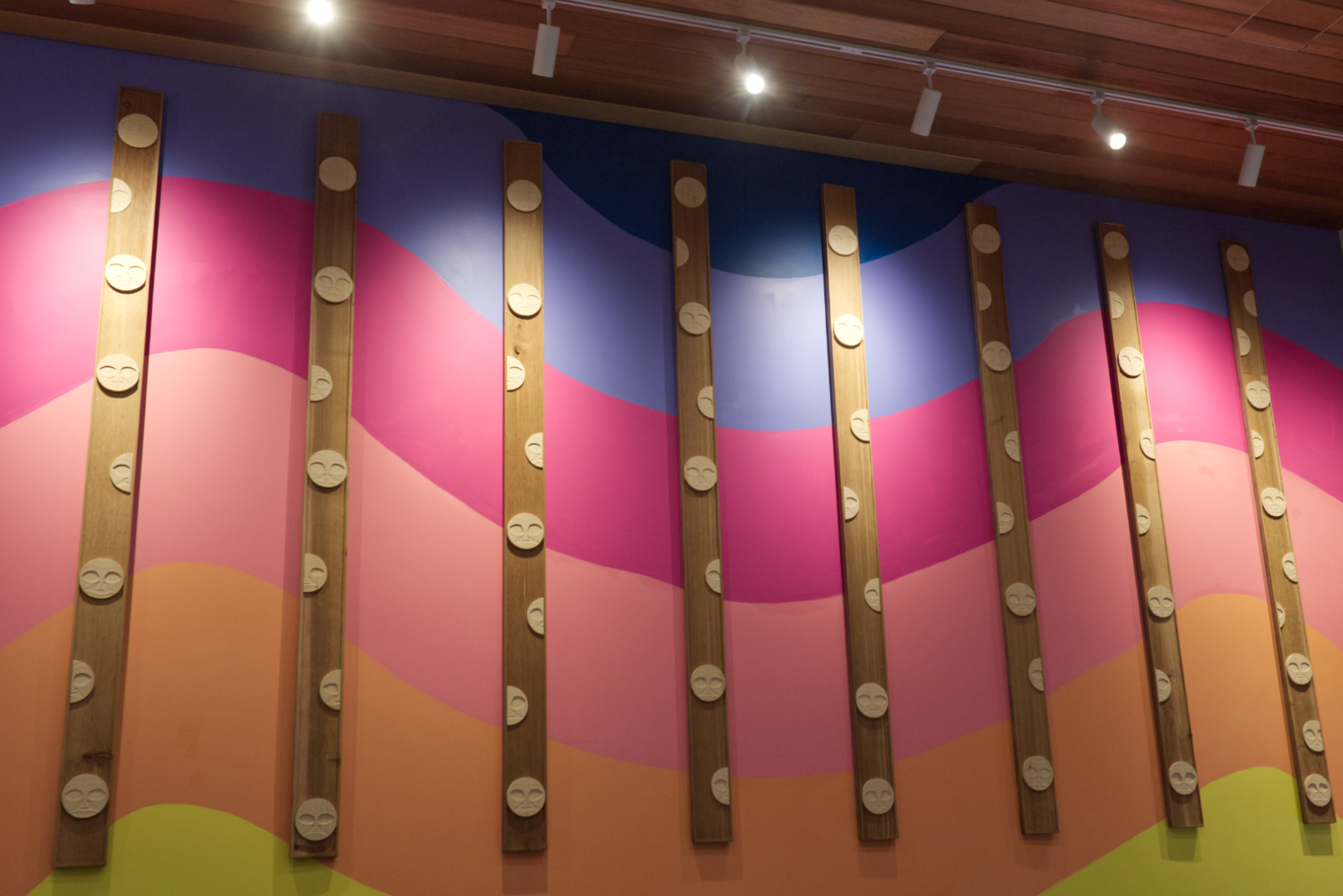 Through these discussions, the NAYA team understood several things. Many residents had complaints about laundry areas in past buildings, with residents saying there was never enough space to do their chores adequately. So, NAYA created a laundry lounge, which was built to be an accommodating space and attached to a kid's room. Potential residents were adamant that any housing unit that prioritized art and artists was not complete without an art studio, so NAYA dedicated a ground level room to just that. This shared space would be integral to the artists who live at Mamook Tokatee, offering them a quiet space to create, work and network. Though artists living here cannot sell their art from the apartment complex, NAYA has leased a space to set up a gallery next door where local artists and residents of Mamook Tokatee can make a living off their art. Additionally, an art selection committee chose muralists and artists to beautify the walls and rooms offered to residents, filling Mamook Tokatee with Native-created art on every floor.
"A big initiative of ours is to not only create housing opportunities, but also business opportunities, economic opportunities as well," Oscar said. "Now, we want to believe that these housing projects are recreating an infusion of Native people back into the neighborhood, and giving them the opportunity to not just survive, but thrive. We've jumped at every opportunity that has come our way to create these wonderful developments."
Through a partnership with Prosper Portland, NAYA delivers several programs to support Black, Indigenous and people of color business in the neighborhoods they operate in. This focus on creating microenterprise opportunities helped ensure a sustainable, equitable plan to reinfuse cultures that have been displaced in Portland. A few short months before the pandemic ground business-as-usual to an abrupt end, NAYA had excitedly become a lease holder for commercial spaces along NE 42nd Ave to support small, BIPOC entrepreneurs get access to affordable retail spaces. Then, March of 2020 saw the world shift, and all these businesses with leases and financial responsibilities had their entire revenue model upended.
"NAYA felt a responsibility for these business owners, we knew we couldn't see them fail," Oscar said. "We mobilized our entire team to support businesses, helping them file for federal forgivable loans, grants, PPE, unemployment benefits and more. I'm proud to say that by the end of 2020 all of the tenants we supported were still in business and current on lease payments."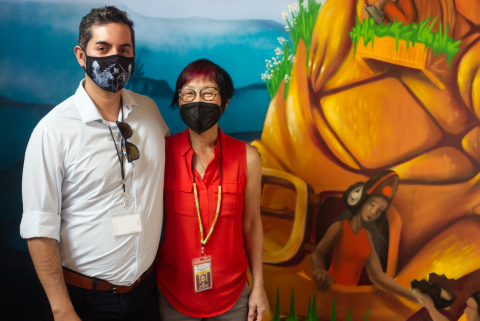 This colossal effort took the entirety of NAYA's resources and wherewithal to pull off. But it has resulted in an increased presence of BIPOC businesses in the Cully neighborhood and beyond. This aligns well with NAYA's efforts to create a cultural corridor along 42nd Ave, where Mamook Tokatee is located. And both Ann and Oscar believe NAYA was unique in being able to pull this off.
"Considering NAYA started 50 years ago, the Native American community trusts us. We represent and come from people who have shared experiences with us," Ann said. "The Native community knows how to thrive, they know what they need, and we've grown with them to provide services that help them do just that."
NAYA's intentional targeting of communities combined with their focus on community input has allowed the non-profit to be an organization that their clients trust and reach out to. Other providers, lacking this culturally relevant background and trust, just wouldn't be as successful in providing the services needed by the Native American community. The organization does much more than provide housing, too. They have recently formed a 501(c)(4), the NAYA Action Fund, to directly advocate for Native American representation in all forms of government in Oregon and Washington. The first two candidates, Kim Harless and Diana Perez, endorsed by the NAYA Action Fund won their Vancouver City Council races and are now City Commissioners.
"We hope to bring knowledge and experience from our clients to the policy level to change the way our current government and laws exist, making them more reflective of the Native communities," said Oscar.
This focus, alongside the many other efforts NAYA is involved in, is proudly supported by United Way of the Columbia-Willamette. We recognize and seek to correct the institutional harms that have been present in the past and are still present today. Without intentional, corrective steps, these harms will only fester, damaging our community as a whole and restricting progress on every level. If you would like to support NAYA, visit their website here and donate today.