Thanks to your help, the Eviction Reform and Reduction Bill has passed! Now we move on to advocating for the passage of the full slate of bills Stable Homes for Oregon Families is endorsing.
Join United Way of the Columbia-Willamette, and a wide variety of other non-profits, in supporting a slate of bills working their way through our state legislature right now. We are a part of the Stable Homes for Oregon Families coalition that is supporting these bills in hopes of addressing the severe crisis in housing our state is facing, knowing that we need action now to reduce evictions and keep people safe and stable in their homes.
The Stable Homes for Oregon Families Homelessness Prevention Package for 2023 seeks to:
Provide Rent Assistance to help people who need it.
Pursue Eviction Reform to stop fast-track evictions, provide a short safe harbor period and prevent landlords from refusing payments when people have the money.   
Enact Reasonable Rent Limits so that people can afford their housing.
Create Rental Market Data so we know more about property owners and housing availability.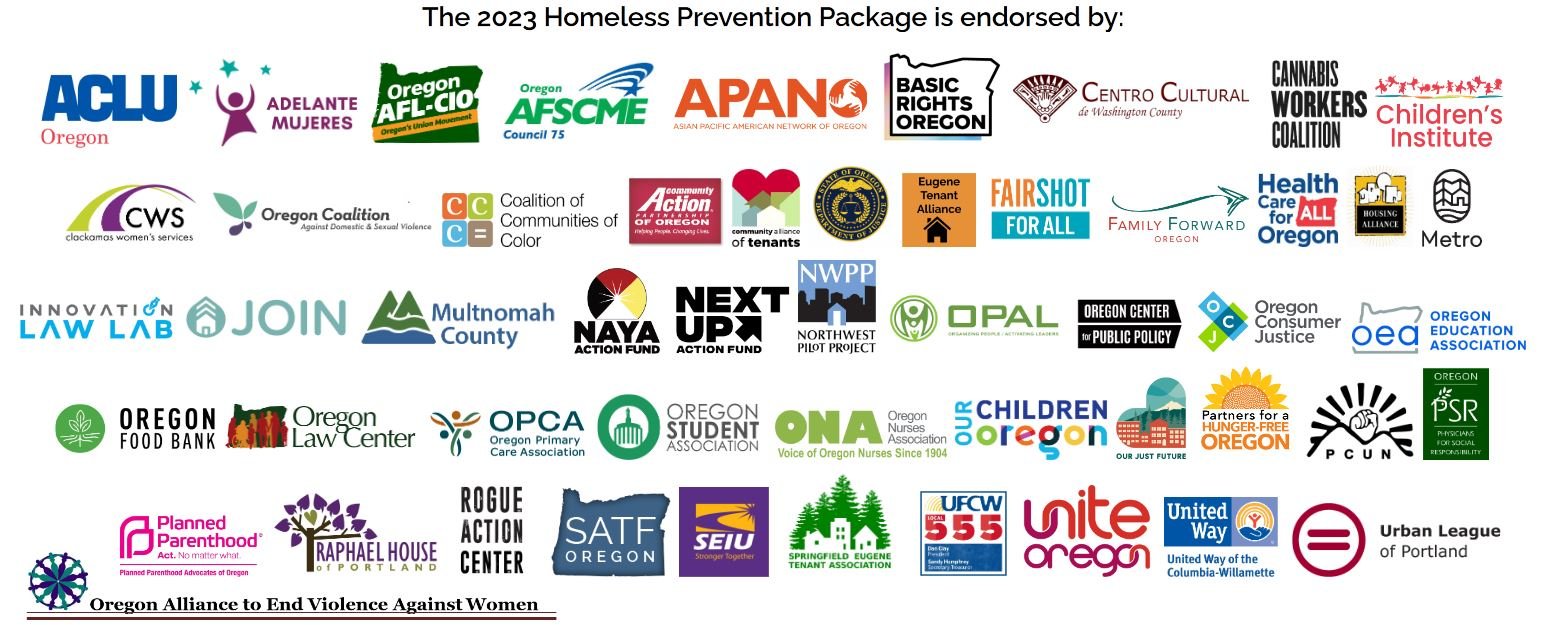 Four in 10 Oregonians rent their homes and after making the rent payment, more than 50% of them don't have enough money left over to afford food, child care, transportation, health care, taxes and other necessities.     
The 14.6% allowable rent increase for 2023 is harming Oregon families. With so many people living on the edge, allowing landlords to increase rent at this rate will result in more homelessness.     
Over 80% of all evictions are due to an individual or family's inability to pay rent, and studies show that even a $100 increase leads to a 9% increase in homelessness, per the U.S. Government Accountability Office. Black women are more likely to experience eviction because of systemic racism decreasing housing opportunities, a lack of legal and rent assistance and housing discrimination   
Once people receive an eviction notice for non-payment, the process is far too swift and unforgiving. If tenants don't pay within 72 hours of receiving the notice, they will be taken to court, often with little to no access to legal representation. That simply isn't enough time to find, apply for and access rental assistance or other services. And as a recent Oregonian investigation found, the law is also brutal in that it says after 72 hours, even if people find assistance, it's too late - landlords can refuse to accept payment and proceed with eviction.
Download this one pager from Stable Homes for Oregon Families to learn more about the bills that will address these injustices, and learn how you can help ensure our most vulnerable communities are offered more support.