Our Early Learning Programs continue their steadfast work throughout the sunny season.
Summer is officially here after a long rainy season, but that doesn't mean United Way of Columbia-Willamette's Early Learning programs get to take a break! Our dedicated team at Early Learning Multnomah brings a myriad of necessary and beneficial programs to the people they serve throughout the summer months. Working directly with Multnomah County and a several other partners, Early Learning Multnomah helps provide two unparalleled services: the Early Kindergarten Transition (EKT) programs and the Prenatal to Third Grade Schools Project (P-3 Schools). 
The Multnomah County-led Early Kindergarten Transition program promotes a successful integration into early learning for children and their families in county-supported SUN Community Schools. The goals of this program are to support parental involvement before, during and throughout their children's education, reduce chronic absenteeism in kindergarten and promote children's success in learning. 50 schools are offering this free two-to-four-week summer program, prioritizing families without preschool experience, those who are multilingual and families with special needs or children with disabilities. The P-3 Schools Project kickstarts parent involvement and early learning in grades K-3 by connecting families to schools before kindergarten starts and fostering relationships between families in hopes of better connecting their children with the community while building parent leadership through early grades.
"The P-3 Schools Project removes barriers and provides families with flexibility around when they want to participate in activities," said Mani Xaybanha, Program Specialist at the Multnomah County Human Services Department. "It's really catered to families and what they need. We work with underserved communities, families that are experiencing food insecurity, immigrants, refugees and multilingual communities." 
Mani works alongside established, trusted culturally specific and culturally relevant organizations like IRCO, Latino Network, Metropolitan Family Services to ensure that families receive welcoming, knowledgeable, respectful and efficient support. Coordinators are hired from these partner organizations and embody lived experiences, cultural backgrounds and language appropriate to the community they serve. These coordinators work to increase and deepen a diverse cohort of families; to center the parent's voice and encourage engagement that often extends throughout the child's education. The coordinators host play and learn events throughout the year, encouraging early connections between families that result in concrete boons like carpooling and pre-kindergarten educational materials in a family's native language. Play and learn events also provide more personal advantages like building relationships amongst parents and kids, which fosters a feeling of comfort and belonging and creates mechanisms for handling difficult situations like bullying. 
Throughout COVID, many of these events transformed. According to Mani, the P-3 coordinators kicked into overdrive to ensure their families were taken care of. They did wellness checks, provided resources and referrals to access food, clothes, provided tech support with virtual learning, and connected families that were struggling with rental assistance.
"They kind of shifted into case managers," Mani said. "All the things they would be doing at play and learn events went virtual, and then a lot more work was added on."
These coordinators spent the pandemic doing their best to ensure families were well-equipped for virtual learning, overcoming the gap in access to technology and tech literacy that many of these families faced. They provided at home kits (similar to our multicultural STEM kits!) to their families that were utilized for learning opportunities during virtual play and learn events. As of this spring, though, families are back to happily connecting at in-person events.
"There's not many opportunities for these families to connect and come together before kindergarten," Mani said. "These play and learn events and our parent cafes allow for a safe space to talk and learn from each other. Everyone is a teacher and everyone learns here." 
The parent cafes are held quarterly and hosted by P-3 coordinators. They invite communities to engage in intimate, authentic conversations on topics relevant to families. EKT parent cafes connect new families to schools and ensure their kids arrive at kindergarten ready to learn. Statistically, many of the communities served by P-3 coordinators and the Early Kindergarten Transition program are less prepared for success in kindergarten due to systemic barriers. Parent cafes hope to mitigate that by forging deep bonds between families and providing early learning materials in an environment and format that these diverse communities can excel alongside. These cafes cover a variety of issues, bringing in guest speakers alongside the P-3 coordinators to discuss topics like self-care, mental health, anti-bullying, nutrition, and overall empowering parents to be their child's best asset and advocate.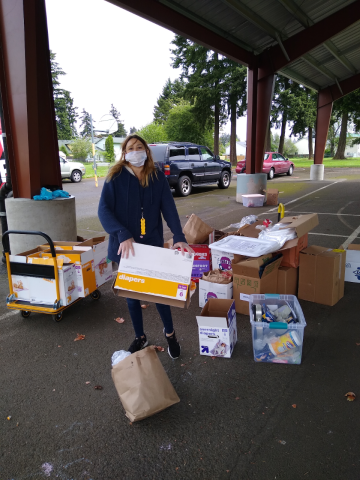 "We are welcoming families in before they even start school, and that makes such a difference in families' lives," Mani said. "The connections, the warmth, the collusion, it's all about pushing those historic, discriminatory barriers away. It especially warms my heart to think of the families that are new to the region, the refugees and the immigrant families that need support."  
For Mani, assisting these families is deeply personal and poetic. She and her family are Lao, moving from Laos to the United States in 1978 after the Vietnam War ended. She found herself in the David Douglas school district without the resources in place to ensure her and her family had an ideal transition into American early learning.
"It was hard," Mani said. "I don't know how my family navigated anything but we survived, we made it through."
Mani and her family were far from the only refugees coming to America at the time, and will definitely not be the last. The programs she helps coordinate provide integral support exactly suited for a vulnerable population like this. As she reached first grade, Mani couldn't speak English yet, but thankfully an ESL teacher excelled by engaging with Mani and her family's culture to ensure she was better prepared for her schooling.
"Somehow [the ESL teacher] got Menlo Park Elementary and a lot of the community to learn about people from Laos, our culture, our food. I vividly remember my mom speaking about our food and performing a cultural dance for the school. A lot of these kids and families had no knowledge about our culture and they were able to learn thanks to her."
That is the power of these programs: they build a deeper understanding and connection between an entire community to ensure early learning outcomes are successful. Mani's ESL teacher reached out to her and her family the same way P-3 coordinators do every day. They are agile, inclusive and knowledgeable, responding to issues that hampered Mani's early education and ensuring all families get support. 
"It's a full circle for me, my story," Mani said. "It warms my heart to see how things have changed, we're always going to be having new families coming here from new countries, with their own unique traumas and cultures. There wasn't a program like this when my family came."
As Oregon's early learning ecosystem continues to evolve in the wake of overwhelming support for Preschool for All, and that program ramps up for its 2030 universal rollout, programs like P-3 and EKT are still integral and beneficial. Mani and her team have connected with the Preschool for All team, and both groups have determined that P-3 and EKT will synergize well with the free preschool soon to be offered. P-3's low barriers of entry and variety of topics and support offered are unparalleled and irreplaceable.
"There's nothing like the P-3 programs," Mani said. "My dream is to see this program grow, I wish that every school was blessed with a P-3 coordinator, and I often hear from schools without this program wishing they did." 
Outside of continuing to support these programs over the summer, Early Learning Multnomah is also steadfastly dedicated to supporting Community Education Workers who are trusted community members and certified health workers that work alongside previously isolated families, offering another culturally appropriate resource to ensure early learning success. Additionally, our Early Learning Multnomah team is hard at work, advocating for better resources for early learning in our state, ensuring they are getting in front of legislators and fighting for families, children, and early learning staff. With historic turnover in our state legislature, this work is more important than ever.
"That's my summer job, getting in front of these politicians," said Molly Day, Director of Early Learning Multnomah.
Learn more about P-3 programs, early kindergarten transition programs and more of what our Early Learning Multnomah team is up to by visiting their website here.