I've recently celebrated having lived in Portland for a decade. I am not the same guy in his mid-twenties who moved from Las Vegas to a city he'd never been in and knew no one and knew nothing about it except that it had a famous bookstore. For one thing, I had the crazy idea of toughing it out and just seeing where each day would take me. But, after stepping out of the airport into a drizzly landscape, I changed my mind and started looking for a studio apartment. Also, now I can't imagine a life where volunteering doesn't play an integral role in it.
I was unemployed for seven months after moving to Portland. I'm sure I could have found a job if I really wanted but I was being too picky. I only wanted to work with books. And the famous bookstore didn't seem to want to hire me. (But, spoiler alert, I ended up working at various bookstores since then and have been a bookseller at a wonderful and quirky children's bookstore for more than five years now.)
To keep my sanity, I decided to volunteer for the Friends of the Multnomah County Library Store. It was a great way to put my skills to good use and also to meet people. I would eventually also end up volunteering at their Book Sales and special events as well as serving on their Board over the years.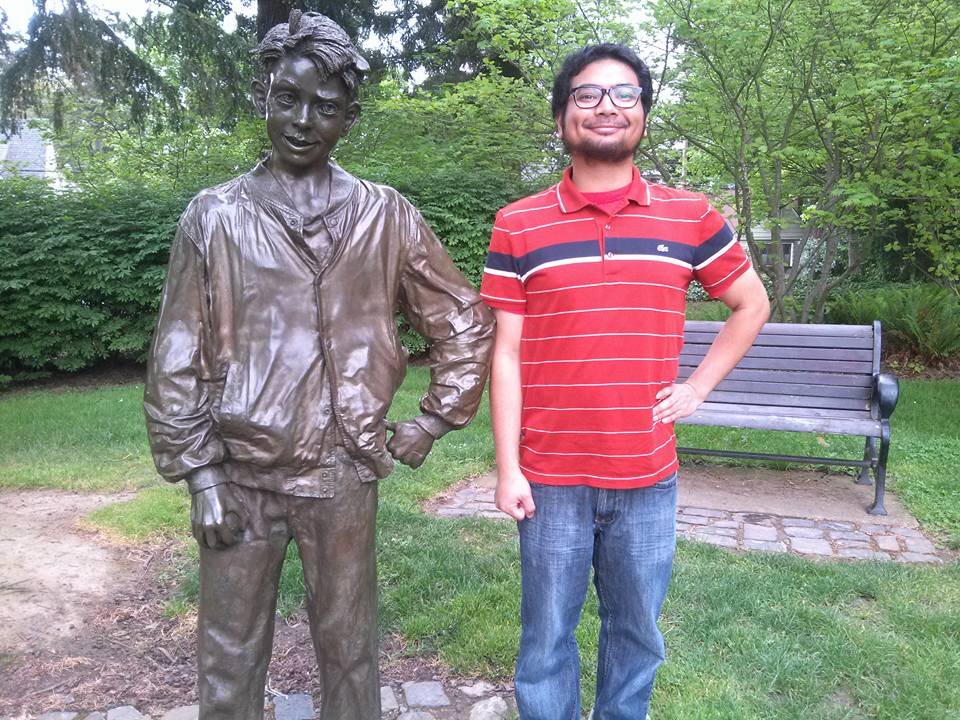 Once I got a full-time job, it proved to be difficult to find volunteer opportunities that didn't conflict with my work schedule. (Fortunately, where I worked before, there was a culture of giving and we would volunteer at places as a group from time to time.) That's when I heard of Hands On Greater Portland, a United Way volunteer program. It was a great way for me to check out different nonprofits and see which one really spoke to me without having to commit long-term. There would be times when I would have nothing to do for the day and then just pull up their calendar to see if I can go volunteer someplace.
 
One of my favorite Hands On memories was participating in their TeamWorks program a few yearsago. It offered a group of volunteers an opportunity to work together on a series of projects focused on a particular theme over multiple weeks as a way of getting to know one another and gain a deeper understanding of community issues. The theme we explored was healthy vibrant neighborhoods. I came out of it having such a strong sense of connectedness with the folks I volunteered and met along the way and with everything around me. 
From serving the hungry with Potluck in the Park, bundling food at the Oregon Food Bank, doing crafts with refugee children at Kateri Park, grocery shopping for seniors with Store to Door, to cleaning up the river on a canoe with Tualatin Riverkeepers and even packing hay for Rabbit Advocates, volunteering has opened my eyes to all the different causes one can get involved with.
That's why I've been involved with The Children's Book Bank on and off for almost eight years now- starting out as a volunteer at an Earth Day book drive they had to cleaning donated kids books at their work space and eventually taking on the Hands On Volunteer Leader role for those sessions and helping out at special events.
Book people are the best people in my opinion. It is my belief that the more books - and the variedness of the books - a person reads, the more empathetic they become. They are smarter and kinder. And, I saw that proven often at the Children's Book Bank. As a Volunteer Leader, I try to make sure everyone is having a good time and that they are part of a group surrounded by "kindred spirits." One of the first things we do is go around and do introductions and share a favorite kids' book. Certain titles almost always elicit smiles or sighs of remembrances. And while we clean donated books, we talk about all kinds of things. One time a conversation led to an impromptu singalong when the subject of musicals or TV theme songs came up. A couple of times a beloved book would be discovered and a volunteer would be compelled to share it by reading it out loud.
I'm always pleased to see kids volunteering and am proud of the adults who encourage this selfless act at a young age. I love students coming in to meet community service requirements and seeing businesses who make volunteering and giving back part of their companies' culture.
A question that gets asked a lot during volunteer sessions is "Why do you volunteer?" And I like to joke that I do it for a completely selfish reason.
"It makes me happy when I'm able to make a difference and still have a good time doing it. I also love hearing other people's volunteer stories."
Whether it was the visiting family who would travel to various states during the summer and made sure to volunteer together at each place they stayed at or the dad who shifted his mindset after opening presents one Christmas and wanting to make the season of giving last longer or any of the countless dedicated volunteers who had been giving their time to an organization for a decade or more or the new to town person who wanted to meet people and do good at the same time, they all inspire me to continue what I'm doing. 
In my job as a bookseller, in my goal to be a children's book writer, in my spare time reading as many great books as I possibly can, and in my role as a volunteer with various literacy organizations, I see how important books are for entertainment and educational purposes, to enrich lives, to empower its readers. I wouldn't have such clarity in my life if I hadn't moved to Portland all those years ago.
 
As the saying goes, you can take the bookseller out of the bookstore but you can't make him stop talking about books.
Here are some of my recent favorite reads: Islandborn by Junot Diaz, Alfie by Thyra Heder, The War I Finally Won by Kimberley Brubaker Bradley, Long Way Down by Jason Reynolds, and Logical Family by Armistead Maupin. This World Book Day (April 23), support your neighborhood independent bookstore by checking out these books or visiting your local library. 
You can follow my blog: The Chronicles of a Children's Book Writer