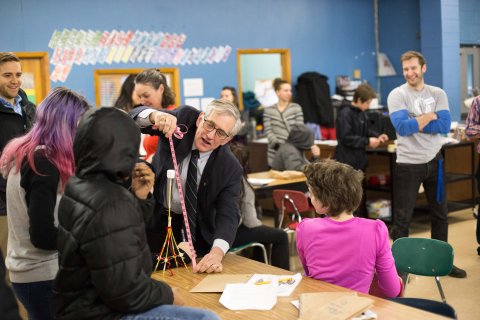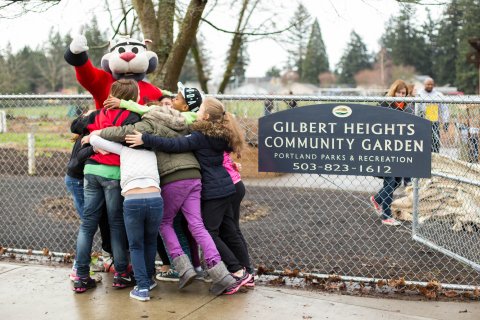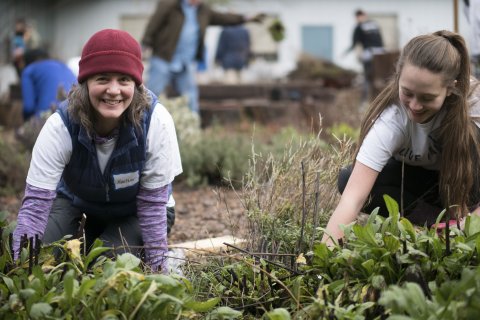 Over 1,800 volunteers poured their energy into 72 different projects in our region over MLK Weekend, tackling a diverse range of projects that included transforming school playgrounds, socializing shelter dogs, planting trees, cleaning donated children's books and sewing blankets for children in need. All told, volunteers contributed over 5,400 hours of service, adding a value of $125,000 to our region.
Teams from local businesses turned out in force to contribute their time. Mayor Charlie Hales and Umpqua Bank employees assembled STEM kits with students at Open School. Volunteers from Regence BlueCross BlueShield of Oregon cleaned donated children's bikes at the Community Cycling Center and a team from The Boeing Company sorted and packed food boxes for those in need at SnowCap Community Charities.
"A day of service is the mantra of MLK - 'a day on not a day off' - and that really motivates me," said volunteer Terry Clelen. "I mean, how easy is it when you think about it that way?"
Nonprofits in our region rely on volunteers to meet their missions. The impact created by MLK Weekend of Service volunteers will be felt in our community all year long.
United Way's MLK Weekend of Service took place because of critical support from presenting sponsor Regence BlueCross BlueShield of Oregon, as well as support from sponsors The Boeing Company, Daimler Trucks North America, Umpqua Bank, NW Natural, Portland General Electric and the Portland Trail Blazers.
---
Our goal at United Way is to cut childhood poverty in our region in half by 2025 - and you can help. Find a volunteer project today aimed at breaking the cycle and help give every kid a fair chance.
You can make a difference for kids and families