---
At United Way of the Columbia-Willamette (UWCW), we lead with racial equity. We know that structural racism and other forms of oppression contribute to persistent disparities in our region. Alongside our partners, grantees, and community leaders, we work to develop solutions that advance health, well-being, and equity for all.
Across the state, culturally specific and culturally responsive organizations stepped up to serve their communities during the 2020 wildfires. We prioritized grants to these organizations, as they became de-facto disaster rapid response teams, often having to put their regular missions to the side during the crisis.
This report captures what we learned from our grantees, as we work to build trust and redirect resources to organizations with deep connections in their communities. We know disasters exacerbate existing inequalities and disproportionately hurt the most vulnerable. We also know disasters provide opportunities to re-imagine the systems that shape our lives—and our grantees are asking for transformational change.
We are grateful to leaders on the frontlines, working diligently to uplift their communities. We are also grateful to our partners and funders, who share our commitment to centering racial equity in disaster relief and recovery.
We look forward to our continued collaboration.
---
Download the United Way of the Columbia-Willamette Wildfire Response and Recovery Fund Report below
Click here for English version
Click here for Spanish version
---
---
WHAT WE LEARNED
In response to the 2020 wildfires, United Way of the  Columbia-Willamette (UWCW) invested in disaster relief and recovery for the first time. We listened to the experiences of community-based organizations (CBOs)  activated by the wildfires. These initial conversations - and our long-standing commitment to racial equity - led to the launch of our trust-based grant-making process.  We prioritized unrestricted grants to culturally specific and culturally responsive community-based organizations, as well as community-based organizations tthat serve low-income, houseless and rural communities.
Through our grant-making process, we heard again and again that Oregon's communities of color do not have the support they need during a crisis. Leaders of the community-based organizations identified profound gaps in culturally appropriate communications, evacuation, shelter and other systems intended to alert and protect the state's residents. See their recommendations in the graphic below.
As we look toward healing, we must center racial equity in our disaster response and recovery systems. From meeting basic needs to ensuring multilingual and multicultural services are available, kids and families across Oregon must have access to lifesaving resources during a crisis. With partners across sectors, we hope to build our preparedness capacity and community resilience by engaging those most impacted by disaster to create the solutions we need. We know that with the threat of climate change,  disasters, like wildfires, are increasing. We need to meet the urgency of this moment - and listen to our state's vulnerable communities.
---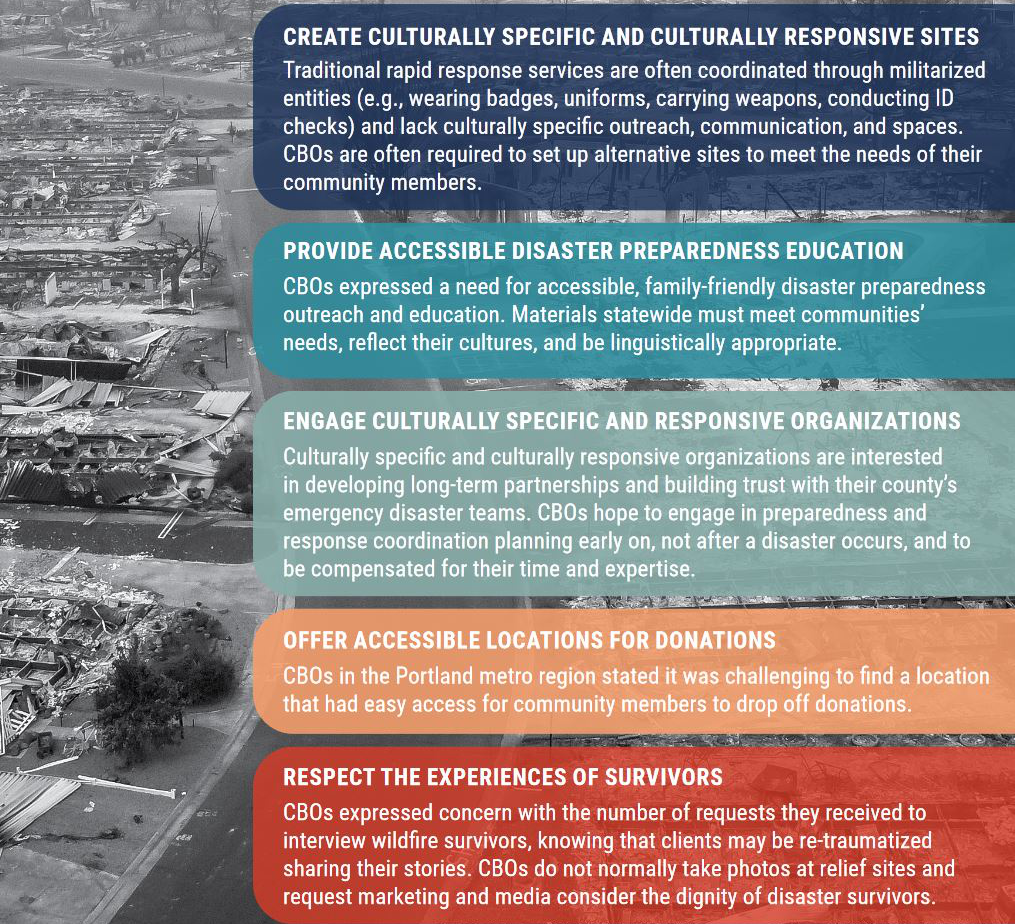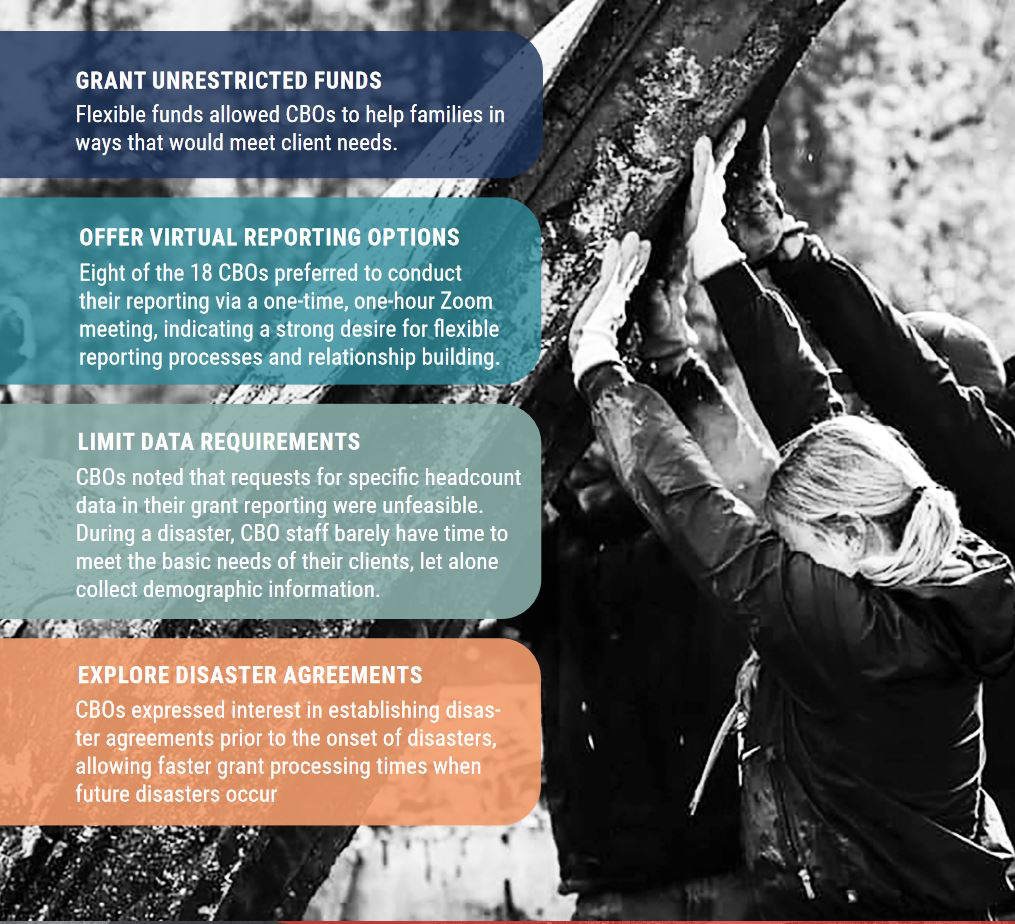 ---
What's Next? Disaster Resilience Collaborative Pilot
As the frequency and severity of natural disasters increase, culturally specific and culturally responsive CBOs will continue to play a critical role in supporting effected communities, particularly the Latinx and American Indian communities who were disproportionately impacted by the 2020-2021 natural disasters. In partnership with the Oregon Health Authority (OHA) and Trauma Informed Oregon, UWCW piloted a Disaster Resilience Learning Collaborative program. The purpose of the project is to advance equitable disaster resilience through healing-centered, culturally grounded collaborations and actions. We know that building resilience requires more than strengthening infrastructure and protecting natural resources. 
The learning collaborative is a space for statewide community of color leaders to build relationships, center cultural ways of healing, and reimagine how disaster response strategies can better serve their communities. Healing-centered programs have the capacity to restore identity and those working with communities experiencing trauma need to support their own healing as well. Our first cohort explored personal and collective power, with the goal of creating impactful systemic shifts rooted in wholeness and relationships. Click here to learn more about the Disaster Resilience Learning Collaborative.
---